Wednesday Ad Hoc Training Provides Relief for Locked-down Sailors
Phil Cragg and Reto Corfu ('Phreto') have staged some informal practice races over a few Wednesday evenings to relieve sailors' jonesing for waterplay.


Obviously addicted to sparing on the sea, crews are still adhereing to important public health guideliines.  Apart from the usual RRS, I understand that penalties can be awarded for
yelling towards a competitor who is less than 2 metres away (Yelling under 2 metres);
it is
unsportsmanlike conduct to hail without ppe (Naked hailing)
; and disqualification from a race can result from 
fending without
sanitizing (foul fending foul).
COVID-19 is still with us and it is important to continue to follow Dr. Bonnie Henry. 
Start at 6pm somewhere between Kits Yacht Club and Royalvan.  Race Committee is likely a rib with Phil making noises.
SIs:
Maximum crew of 2 or 3

Whitesail only, no spinnakers
startline between

Phil's powerboat "Mongoose"

 BC sailing orange RIB and a mark
one windward mark
Twice around, fairly short racecourse due to boring downwinds, so try for 3-4 circuits?
3 minute starts, no flags:

bunch a whistles = get ready (4 min), 3 whistles = 3min, 2 whistles = 2 min, 1 whistle = 1 min, 1 long whistle = go

pick the aft corner of transom as boat end of start line 

 wherever Phil is sitting is boat end of the line
Honour system on OCS, etc. 

usual 1 turn penalty for fouls/2 turns if near a rounding mark
Training circuit will be
 between Royalvan and Kits.
Don't forget to social distance in the boat yard & for launching
.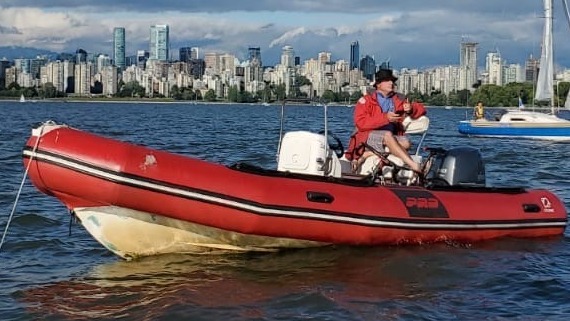 Be Kind, Stay Calm, Sail Safe.