TOO WICKED TAKES NAs at COW BAY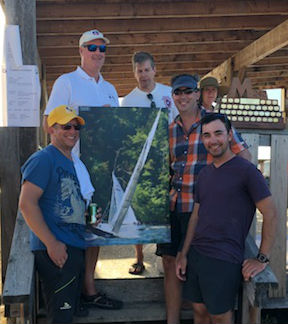 Congratulations to Michael Clements and the Too Wicked crew of Steve Bingham, Jeremy Smith and Justin Hall for winning the 2018 M242 North American Championships at Cow Bay. That's Matt Collingwood photo bombing at the back between Michael and Jeremy.
Matt and his team on Dirty Dog were 2nd overall and Chris White's team on Crazy I's, third.
Chris White adds his name to the prestigious Screwdriver Award for running aground twice during practice racing on Friday.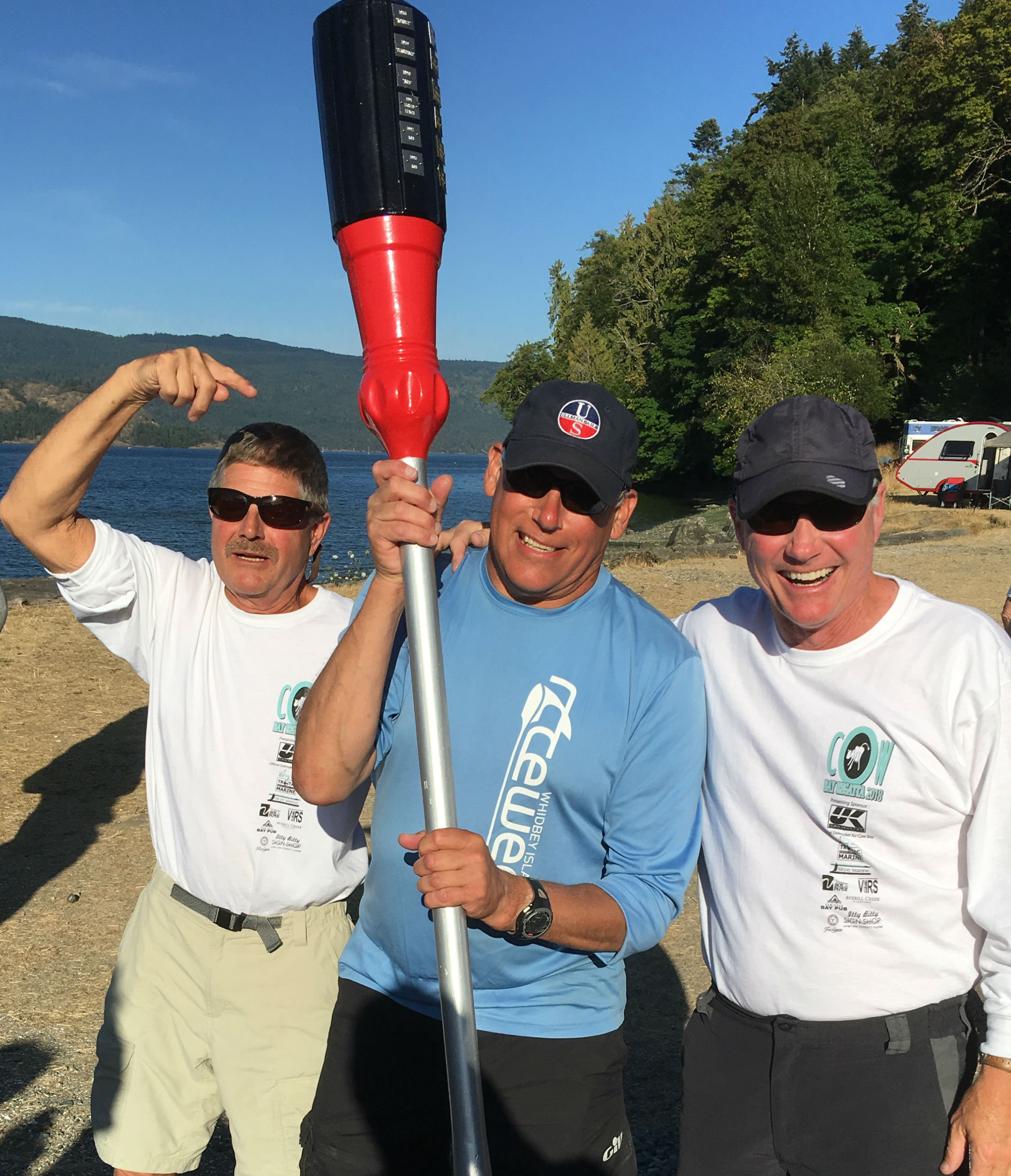 Gary Renzelman, Chris White and Jeff Johnson proudly displaying their Screwdriver award for the biggest screw-up.
Full results below:
Results are final as of 21:38 on August 5, 2018
M242 Division
| Rank | Sail # | Yacht Name | Skipper | Yacht Club | Sat 1 | Sat2 | Sat3 | Sat4 | Sun1 | Sun2 | Sun3 | Sun4 | Total | Nett |
| --- | --- | --- | --- | --- | --- | --- | --- | --- | --- | --- | --- | --- | --- | --- |
| 1st | 304 | Too Wicked | Michael Clements | RVanYC | 1.0 | 1.0 | (3.0) | 1.0 | 1.0 | 1.0 | 1.0 | 3.0 | 12.0 | 9.0 |
| 2nd | 282 | Dirty Dog | Matt Collingwood | KYC | (9.0) | 2.0 | 1.0 | 6.0 | 4.0 | 4.0 | 4.0 | 1.0 | 31.0 | 22.0 |
| 3rd | 203 | Crazy I's | Chris White | OIYC | 3.0 | 4.0 | 2.0 | 5.0 | 5.0 | 2.0 | (6.0) | 4.0 | 31.0 | 25.0 |
| 4th | 163 | Purple Martin | Betsy Wareham | OIYC | 4.0 | 3.0 | 4.0 | 2.0 | 3.0 | 8.0 | 10.0 | (17.0) | 51.0 | 34.0 |
| 5th | 13 | Back in Black | Pacific Coast Yacht Sales | KYC/RVanYC | 2.0 | 5.0 | (19.0 DSQ) | 19.0 DSQ | 6.0 | 3.0 | 3.0 | 2.0 | 59.0 | 40.0 |
| 6th | 209 | Shadowfax | Allan Strain | RVanYC | 10.0 | (11.0) | 7.0 | 4.0 | 10.0 | 10.0 | 2.0 | 6.0 | 60.0 | 49.0 |
| 7th | 267 | Treachery | Ken Machtley | OIYC | (11.0) | 6.0 | 10.0 | 7.0 | 8.0 | 6.0 | 5.0 | 7.0 | 60.0 | 49.0 |
| 8th | 257 | White Noise | Kirk Westergaard | RVicYC | 12.0 | (14.0) | 5.0 | 13.0 | 2.0 | 7.0 | 12.0 | 5.0 | 70.0 | 56.0 |
| 9th | 260 | Mongoose | Tod Gilbert | NYC | 5.0 | 9.0 | 11.0 | 3.0 | (14.0) | 9.0 | 11.0 | 11.0 | 73.0 | 59.0 |
| 10th | 8 | Simply Red | Alan Drinkwater | RVanYC | 13.0 | 7.0 | 13.0 | (19.0 DNS) | 7.0 | 5.0 | 7.0 | 8.0 | 79.0 | 60.0 |
| 11th | 57 | Scarlett | Team Scarlett | RVanYC | 6.0 | 8.0 | (12.0) | 11.0 | 11.0 | 11.0 | 9.0 | 9.0 | 77.0 | 65.0 |
| 12th | 215 | Min of Mine | Tara Smith | RVicYC | (14.0) | 10.0 | 6.0 | 9.0 | 9.0 | 12.0 | 8.0 | 14.0 | 82.0 | 68.0 |
| 13th | 157 | Dark Horse | Jenn Potter | RVicYC | 7.0 | 16.0 | 8.0 | 8.0 | (17.0) | 13.0 | 15.0 | 13.0 | 97.0 | 80.0 |
| 14th | 115 | Jimmy Chicken | Reid Cannon | RVicYC | 8.0 | 13.0 | 9.0 | 10.0 | 13.0 | 17.0 | (19.0 RAF) | 15.0 | 104.0 | 85.0 |
| 15th | 65 | Mighty Max | Micah Vanderheide / Dave Edwards | KYC | (19.0 DNC) | 15.0 | 14.0 | 12.0 | 12.0 | 15.0 | 19.0 RAF | 10.0 | 116.0 | 97.0 |
| 16th | 266 | No Worries | Luke Acker | RVicYC | 15.0 | 12.0 | 15.0 | 15.0 | 15.0 | (16.0) | 14.0 | 12.0 | 114.0 | 98.0 |
| 17th | 77 | Starpoint | David Berry | RVicYC | 16.0 | (17.0) | 16.0 | 14.0 | 16.0 | 14.0 | 13.0 | 16.0 | 122.0 | 105.0 |
| 18th | 296 | White rabbit | Maria Isberg | SNSYC | 17.0 | (18.0) | 17.0 | 16.0 | 18.0 | 18.0 | 16.0 | 18.0 | 138.0 | 120.0 |
www.cowbay-regatta.ca
This email address is being protected from spambots. You need JavaScript enabled to view it.
Sailwave Scoring Software 2.25.4
www.sailwave.com