Check out our new weather site: from Windy.com.
You can zoom in and out and get a forecast for everything from the lower mainland to North America.
CLICK ON WINDY IN THE MENU TO THE RIGHT.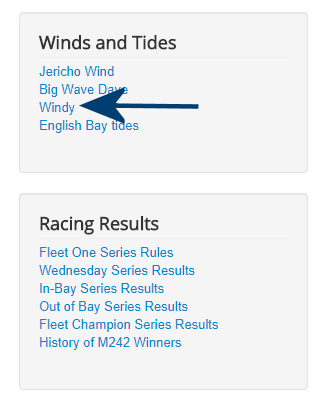 2018 Round Bowen Island Race
Too Wicked Dominates (Again)! Michael Clements starts ahead, ends ahead.
While this photo by John Culter seems to, Michael Clements is NOT over early! He knew where the start line was, others, not so sure.
Four M242s in the top ten overall with Too Wicked: Dirty Dog (Matt Collingwood), Back in Black (Philip Craig), and Whippet (Craig Strand)
| | | | | | | | | | | | | |
| --- | --- | --- | --- | --- | --- | --- | --- | --- | --- | --- | --- | --- |
| 1 | M242 | Too Wicked | 304 | Martin 242 | Michael Clements | Vancouver | CAN | 156 | 10:00 | 13:46:07 | 3:46:07 | 3:37:25 |
| 2 | M242 | Dirty Dog | 282 | Martin 242 | Matt Collingwood | Vancouver | CAN | 156 | 10:00 | 13:52:57 | 3:52:57 | 3:43:59 |
| 3 | PHRF 1 | Calico | 12 | Farr 30 | Fraser Hall | Vancouver | CAN | 54 | 10:00 | 13:19:51 | 3:19:51 | 3:46:19 |
| 4 | PHRF 1 | Spiny Norman | 3 | Farr 30 | Rich Alban | West Vancouver | CAN | 48 | 10:00 | 13:18:48 | 3:18:48 | 3:47:30 |
| 5 | M242 | Back in Black | 14 | Martin 242 | Philip Cragg | Point Roberts | USA | 156 | 10:00 | 13:57:24 | 3:57:24 | 3:48:16 |
| 6 | M242 | WHIPPET | 5 | Martin 242 | Craig STRAND | Vancouver | CAN | 156 | 10:00 | 13:58:22 | 3:58:22 | 3:49:12 |
| 7 | PHRF 2 | Serendipity | 258 | J/109 | Tom Sitar | Vancouver | CAN | 69 | 10:00 | 13:27:53 | 3:27:53 | 3:49:25 |
| 8 | PHRF 2 | Danu | 69266 | Beneteau First 36.7 | McGreer Brandlmayr | Burnaby | CAN | 81 | 10:00 | 13:33:32 | 3:33:32 | 3:50:57 |
| 9 | PHRF 2 | Showtime | 77568 | J/36 | Anthony Boardman | Vancouver | CAN | 83 | 10:00 | 13:35:16 | 3:35:16 | 3:52:03 |
| 10 | PHRF 3 | Frerari | 69406 | Frees 30 | Keith Simpson | West Vancouver | CAN | 135 | 10:00 | 13:56:33 | 3:56:33 | 3:54:45 |
Martin Marine 
2018 Round Bowen Race - M242 Div - June 9, 2018
| Rank | Div | Boat Name | Sail Number | Skipper | Rating | Start | Finish | Elapsed | Corrected |
| --- | --- | --- | --- | --- | --- | --- | --- | --- | --- |
| 1 | M242 | Too Wicked | 304 | Michael Clements | 156 | 10:00 | 13:46:07 | 3:46:07 | 3:37:25 |
| 2 | M242 | Dirty Dog | 282 | Matt Collingwood | 156 | 10:00 | 13:52:57 | 3:52:57 | 3:43:59 |
| 3 | M242 | Back in Black | 14 | Philip Cragg | 156 | 10:00 | 13:57:24 | 3:57:24 | 3:48:16 |
| 4 | M242 | WHIPPET | 5 | Craig STRAND | 156 | 10:00 | 13:58:22 | 3:58:22 | 3:49:12 |
| 5 | M242 | Shadowfax | 209 | ALLAN STRAIN | 156 | 10:00 | 14:17:38 | 4:17:38 | 4:07:43 |
| 6 | M242 | Simply Red | 8 | Alan Drinkwater | 156 | 10:00 | 14:26:52 | 4:26:52 | 4:16:36 |
| 7 | M242 | BlowOut | 27 | Ian Dube | 156 | 10:00 | 14:35:43 | 4:35:43 | 4:25:07 |
| 8 | M242 | Check Mate | 231 | Cedric Carter | 156 | 10:00 | 14:40:45 | 4:40:45 | 4:29:57 |
Thursday

 Night Keelboat Racing Starts 

May 3
Dear Sailors,

Since Kitsilano Yacht Club's first announcement that we will be continuing the Thursday night Spring Series Keelboat races formerly operated by False Creek Yacht Club, we have learned more about the series, the skippers and its ethos and we have decided to make this series inclusive for everyone to participate. 

The series will take place from May 3rd to June 14th. 
We will publish a Notice of Race in the coming days along with registration instructions. 

Prices will be as follows:

Included in membership for KYC skippers
$105 for all 7 races paid in advance
$20 per race 

We are excited to confirm the very experienced Dan La Casse and his wife Bev from Okanagan as our Race Officers for the coming series. Court Touwslager will be out on the water for the first day of racing on May 3rd to ensure we have continuity and consistency of your racing program. 

See you on the water!

Best regards,
Colm




Colm Webb
General Manager
Kitsilano Yacht Club
**This email address is being protected from spambots. You need JavaScript enabled to view it.**
604-730-1646
www.kitsilanoyachtclub.com