3rd Time Lucky: And Size Still Doesn't Matter
The 2018 Edition of the Round Bowen Island Race
Written by Michael Clements


For the 3rd time in 12 years (with about 5 near-misses during 2007-2017), Michael Clements and his Too Wicked team of Adrienne Mennell, Justin Hall, and Ken Machtley won the PHRF Overall trophy and the Martin 242 Division in the 2018 Round Bowen Island Race, beating 127 other boats.
Other Martin 242's came 2nd Overall (Dirty Dog – Matt Collingwood), 5th Overall (Back in Black – Phil Cragg & Reto Corfu), and 6th Overall (Whippet – Craig Strand).
Round Bowen this year was epic, with one of the best wind conditions and favorable current ever experienced, albeit possibly not quite so epic for the 100 or so boats that got caught in a massive hole at the start line for well over 30 minutes, waiting for the westerly to fill in as the flood current kept building.
Too Wicked got a perfect start at the inshore end of the line (see photo), followed closely by Dirty Dog and Whippet, with Back in Black also getting a great start at the offshore end. Along with a small pack of about 10-15 other boats, they collectively broke free of the light air zone that enveloped the start line and chased the westerly zephyrs up the eastern Bowen shore as it struggled to curve around Cowan Point and make its way into Howe Sound. Swinging way wide of Cowan to stay in the strong westerly puffs seemed like a good move for some boats, but they ended up sailing much more distance due to the huge progressive starboard tack lift, whereas other boats that stayed closer to shore playing the shifts sailed much less distance but at generally lower speeds, so it all somewhat evened out.
The south side of Bowen saw a ½ knot flood current along its entire length, and quite a few boats short-tacked all the way along the cliffs to Roger Curtis, making excellent time via being aided by the current. Immediately after turning the corner at Roger Curtis, the Fleet found that the westerly was strong enough in Collingwood Channel to enable chutes to be flown right away on a very tight reach, and the breeze kept building, compressing, and swinging aft as the Fleet moved down the Channel, with most boats passing thru the Hutt Island gap on a dead downwind heading where the wind was at its strongest at about 10-12 knots.
Check out our new weather site: from Windy.com.
You can zoom in and out and get a forecast for everything from the lower mainland to North America.
CLICK ON WINDY IN THE MENU TO THE RIGHT.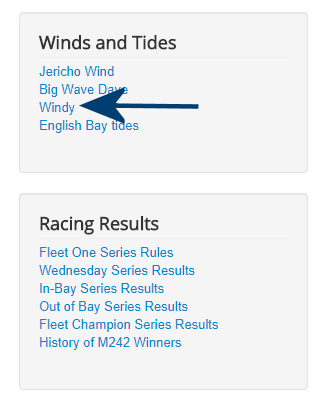 2018 Round Bowen Island Race
Too Wicked Dominates (Again)! Michael Clements starts ahead, ends ahead.
While this photo by John Culter seems to, Michael Clements is NOT over early! He knew where the start line was, others, not so sure.
Four M242s in the top ten overall with Too Wicked: Dirty Dog (Matt Collingwood), Back in Black (Philip Craig), and Whippet (Craig Strand)
| | | | | | | | | | | | | |
| --- | --- | --- | --- | --- | --- | --- | --- | --- | --- | --- | --- | --- |
| 1 | M242 | Too Wicked | 304 | Martin 242 | Michael Clements | Vancouver | CAN | 156 | 10:00 | 13:46:07 | 3:46:07 | 3:37:25 |
| 2 | M242 | Dirty Dog | 282 | Martin 242 | Matt Collingwood | Vancouver | CAN | 156 | 10:00 | 13:52:57 | 3:52:57 | 3:43:59 |
| 3 | PHRF 1 | Calico | 12 | Farr 30 | Fraser Hall | Vancouver | CAN | 54 | 10:00 | 13:19:51 | 3:19:51 | 3:46:19 |
| 4 | PHRF 1 | Spiny Norman | 3 | Farr 30 | Rich Alban | West Vancouver | CAN | 48 | 10:00 | 13:18:48 | 3:18:48 | 3:47:30 |
| 5 | M242 | Back in Black | 14 | Martin 242 | Philip Cragg | Point Roberts | USA | 156 | 10:00 | 13:57:24 | 3:57:24 | 3:48:16 |
| 6 | M242 | WHIPPET | 5 | Martin 242 | Craig STRAND | Vancouver | CAN | 156 | 10:00 | 13:58:22 | 3:58:22 | 3:49:12 |
| 7 | PHRF 2 | Serendipity | 258 | J/109 | Tom Sitar | Vancouver | CAN | 69 | 10:00 | 13:27:53 | 3:27:53 | 3:49:25 |
| 8 | PHRF 2 | Danu | 69266 | Beneteau First 36.7 | McGreer Brandlmayr | Burnaby | CAN | 81 | 10:00 | 13:33:32 | 3:33:32 | 3:50:57 |
| 9 | PHRF 2 | Showtime | 77568 | J/36 | Anthony Boardman | Vancouver | CAN | 83 | 10:00 | 13:35:16 | 3:35:16 | 3:52:03 |
| 10 | PHRF 3 | Frerari | 69406 | Frees 30 | Keith Simpson | West Vancouver | CAN | 135 | 10:00 | 13:56:33 | 3:56:33 | 3:54:45 |
Martin Marine 
2018 Round Bowen Race - M242 Div - June 9, 2018
| Rank | Div | Boat Name | Sail Number | Skipper | Rating | Start | Finish | Elapsed | Corrected |
| --- | --- | --- | --- | --- | --- | --- | --- | --- | --- |
| 1 | M242 | Too Wicked | 304 | Michael Clements | 156 | 10:00 | 13:46:07 | 3:46:07 | 3:37:25 |
| 2 | M242 | Dirty Dog | 282 | Matt Collingwood | 156 | 10:00 | 13:52:57 | 3:52:57 | 3:43:59 |
| 3 | M242 | Back in Black | 14 | Philip Cragg | 156 | 10:00 | 13:57:24 | 3:57:24 | 3:48:16 |
| 4 | M242 | WHIPPET | 5 | Craig STRAND | 156 | 10:00 | 13:58:22 | 3:58:22 | 3:49:12 |
| 5 | M242 | Shadowfax | 209 | ALLAN STRAIN | 156 | 10:00 | 14:17:38 | 4:17:38 | 4:07:43 |
| 6 | M242 | Simply Red | 8 | Alan Drinkwater | 156 | 10:00 | 14:26:52 | 4:26:52 | 4:16:36 |
| 7 | M242 | BlowOut | 27 | Ian Dube | 156 | 10:00 | 14:35:43 | 4:35:43 | 4:25:07 |
| 8 | M242 | Check Mate | 231 | Cedric Carter | 156 | 10:00 | 14:40:45 | 4:40:45 | 4:29:57 |