Manfred Burandt of Pender Island Yacht Club bought Kermit back in March 2020. Kermit has some history, it is Hull # 01, the first production M242 built in 1981! Originally called Teesa, (Don Martin's daughter's name, according to Manfred), it was first raced by Don Martin for two years, and then sold to Gerry Luco of Victoria who owned the boat for 37 years and renamed the boat Kermit. The boat flying a spinnaker on the original M242 brochure is Kermit!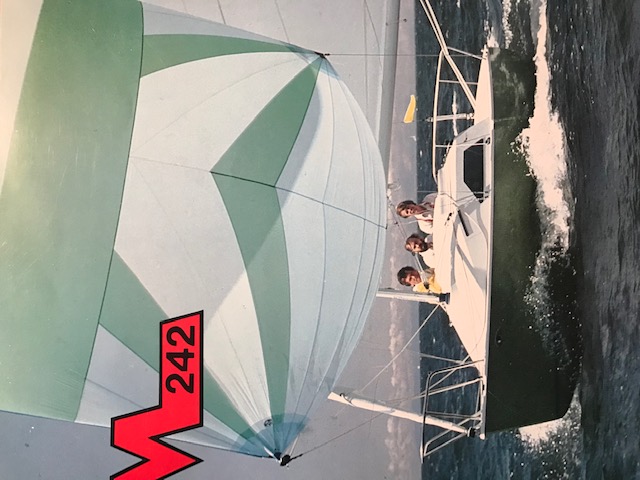 Martin 242 Brochure Circa 198?


Manfred's interest in the Martin242 class began in 1983 when he purchased hull #61 and raced in the Sidney area through the Canoe Bay Sailing Club and Sidney North Saanich YC, until he sold the boat in 1990. Martin 242s in those days were under PHRF and he really enjoyed racing among the bigger boats.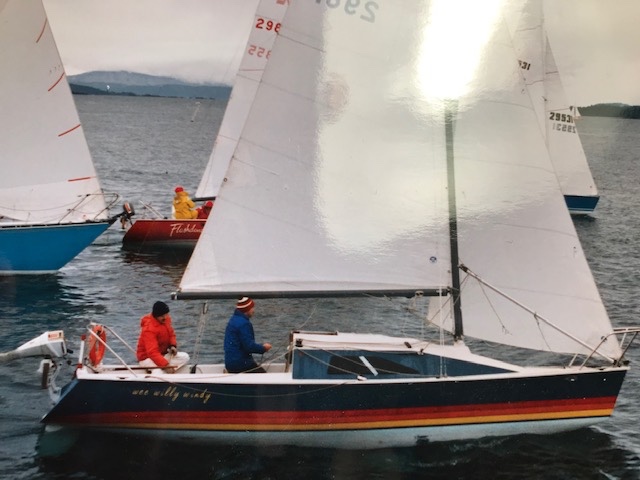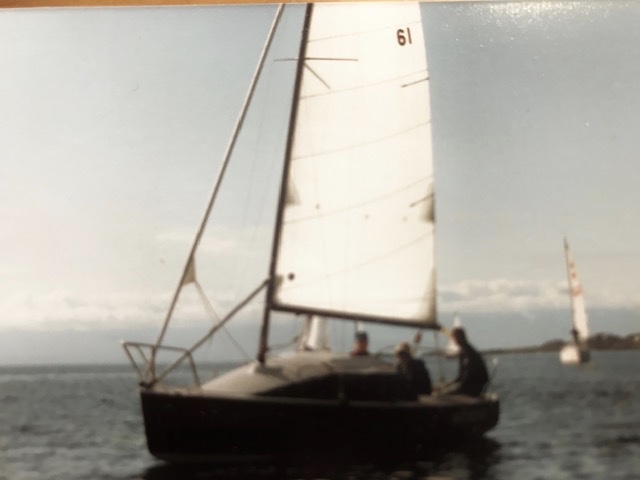 Manfred's first M242, hull #61
Manfred is in the process of doing some refurbishment to the boat. This spring he plans to haul out and epoxy the hull, which has never been done, fair the keel, and replace the rudder bearings that Ken Holland made up. He's also planning to refurbish the deck and cockpit. 
Although Manfred doesn't plan on getting into "serious racing", he has been doing some club racing out of the Pender Island Yacht Club. He reports:
"Boat for boat Kermit is faster than the other boats in the yacht club, and even with PHRF time correction given to other boats I managed to win the Spring and Fall series. Getting back into racing after a thirty-year absence, now in my seventies, and not sailing for that time, feels kind of like riding a bike - once you learn you never forget. It all came back very quickly. I appreciate Michael Clements' considerable information on the M242 which helped to re-acquaint myself with the finer points of boat handling and maintenance.


Living on Pender Island and racing with the Pender Island Yacht Club, my home port is Thieves Bay Marina. There is a dedicated group of racers and a wide variety of boats that each have their strong points depending on wind, weather, and tide conditions. Racing in the area between Pender, Salt Spring, Prevost, Moresby, Portland, and Active Pass is sometimes fun with heavy tides and dodging several large and smaller ferries all in the same area at one time travelling to and from Swartz Bay. The ferry captains are very accommodating and usually maneuver around the fleet scattered all over."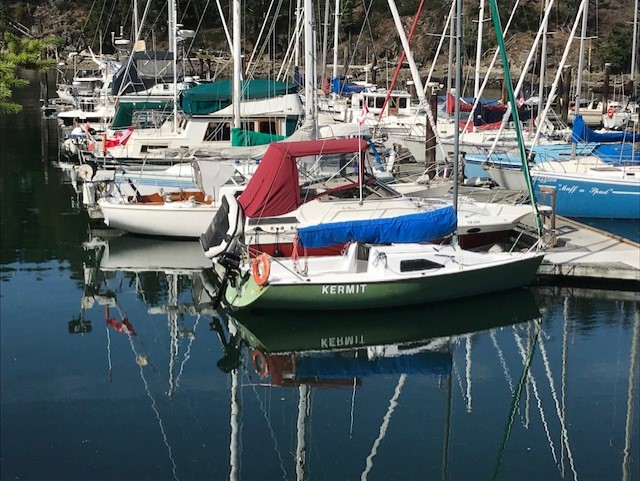 Kermit at the dock on Pender Island 
Keep winning those "not serious" races Manfred!
Welcome to the Regional Fleet - Patrick Morrison and Robyn Hilles
On January 14th, the 2nd boat of 2021 changed hands: Steve Emmes of Orcas Island Yacht Club sold Enigma (hull #79), to Patrick Morrison and Robyn Hilles of Bellingham, WA. Robyn has crewed on race boats before, but Patrick is new to sailing, and they plan on doing a mix of racing and cruising in their new boat. Patrick also mentions that he's looking forward to their 4-and-a-half-month-old son, Bruce, growing up with the boat and developing an appreciation and protective sense of the marine and natural world on it, not to mention respect for the wind... 
With a green hull, Enigma was listed for US$10,500 and was previously owned by Chris White who brought the boat up to spec after he bought it from Oregon back in 2015. The boat came with a Measurement Certificate and measured in perfectly. It also came with lots of extra equipment and features including, but not limited to:
A new top and bottom paint job 1 year ago
A single axle custom-build Martin 242 trailer with new tires, new bearings, races and seals, and a ramp launch extended tongue
A 2015 MG Marine rudder
A 2015 MG Marine boom
Summer canvas cover with bungee cord and bronze snap hooks
10 foot Livingston dinghy
Welcome to the Regional Fleet, Patrick, Robyn, and Bruce, and enjoy your first M242!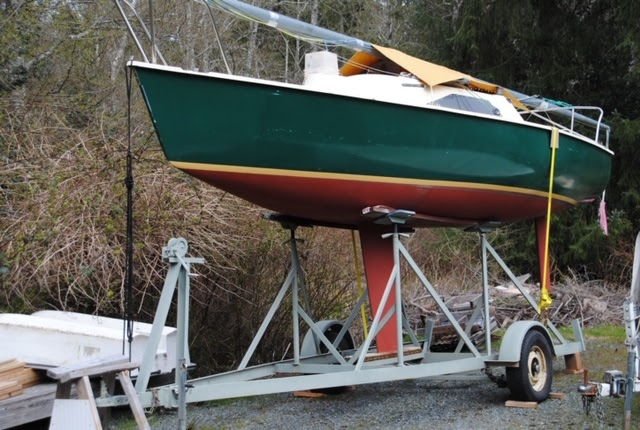 Welcome to the Regional Fleet - Jim Betts & Team
On January 9th, the 1st boat of 2021 changed hands: Stephanie Campbell of Anacortes Yacht Club sold Area 51 (hull #51), to Jim Betts, owner of James Betts Enterprises, which primarily builds Bieker boats. Jim purchased Area 51 for his young team that works for him, such as Will Porter, who will race the boat locally. They also plan on racing the boat in the WA360 (
https://nwmaritime.org/wa360
), which is the new race in Washington State created by the R2AK group. As such, Area 51 will be equipped with a pedal drive for the race! (Editor's Note: this I gotta see...)
Welcome to the Regional Fleet, Jim, Will, and Team, and enjoy your first M242!