Welcome Back to the Regional Fleet: Jason Burnip!
Late last year Jason purchased 8-Ball from James Volkers of Comox and brought the boat over to Kitsilano Yacht Club, where it now resides. The boat had some repairs done to it in the interim. This is his 2nd Martin 242 as he used to partly own 171, Something Wicked.
8-Ball was the last Martin 242 built by the original designer/builder; it won the Martin 242 North Americans that same year. The hull was recently gel-coated and is ready for dry-sailing on the West Coast. There were minor repairs needed on the foredeck but the boat was ready to sail as is. Needs a completed Measurement Certificate.
Welcome back to the Regional Fleet, Jason, and enjoy your 242!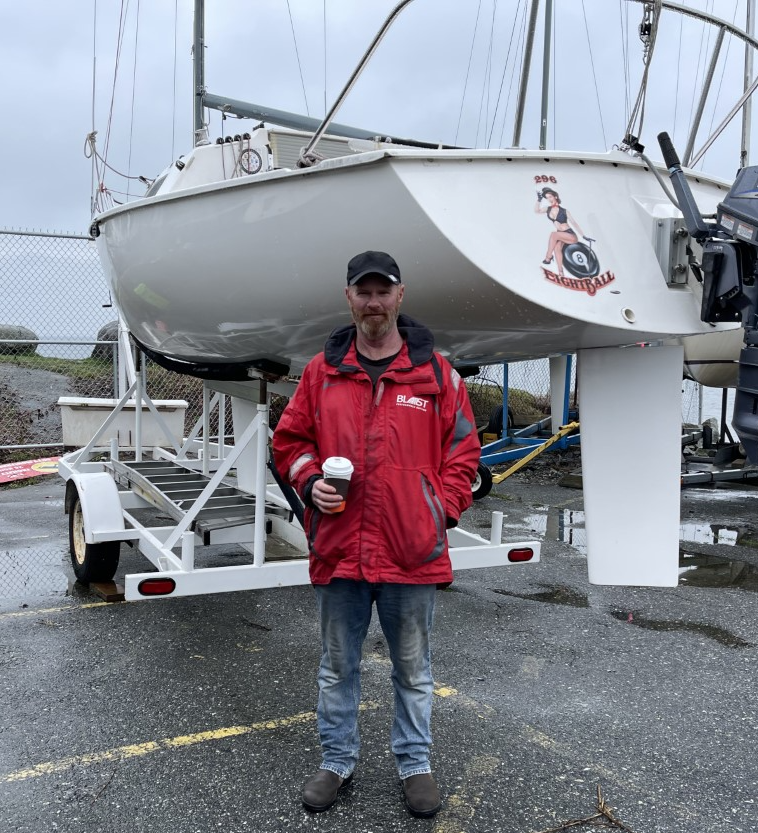 Jason standing beside 8-Ball at KYC
---
SOLD - #113 Blackadder

Blackadder, hull #113, was sold on February 9 by Ken Holland of Nanaimo to Tim Knight, Don Sargent, and Lee Taylor of Royal Victoria Yacht Club  (unlisted transaction, private sale); the 2nd boat of 2023 to change hands. This is Tim's 2nd 242, as he previously owned Flash Dance a number of years back. With a red hull, Blackadder is in very good condition, is race-ready, and came with a 2016 Measurement Certificate (it measured in perfectly).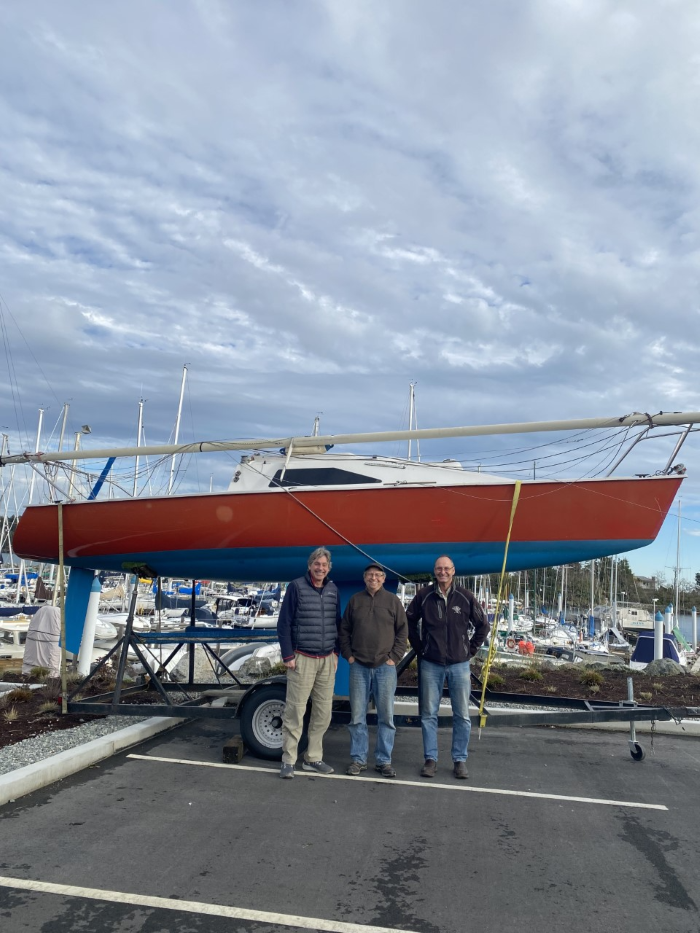 Welcome to the Regional Fleet, Tim, Don, and Lee, and enjoy your 242
---
Racing Concept of the Month #6
The "racing concept of the month" articles are way of sharing the general racing knowledge that has been developed over the decades in the Martin 242 fleet – this is the sixth of a series (ok...not quite montlhy). All are loosely based on the excellent content in this article by Michael Clements.

The Lesser-Known Martin 242 Crew Jobs
There are several well known and important crew roles when racing a Martin 242:
Main – the person that trims the mainsail,
Jib – the person that trims & tacks the jib,
Spinnaker – (hope you can see where this is going by now…) the person that trims the kite,
Pit (aka "Cabinback") – the person who operates all the lines running back to the cockpit, most importantly pole up/down and spinnaker halyard,
Foredeck (aka "Pole") – the brave soul who wrangles the spinnaker pole during hoists, gybes, and douses; and finally:
Helm – the person who sits at the back and makes all the mistakes.

In a well-oiled race crew this is usually four people, but you can get by with three.

But wait! There's more! A successful race crew relies on several other critical but often overlooked roles. Some of these are outlined below, roughly organized by race phase.