A fine day on the water
with stimulating winds, sun and fun watching the tide break on Spanish Banks. Half a dozen 242s braved this Fall classic out to the Bell-buoy and back.
The usual suspects battled in a tight race with the "Galaxies Fastest Boat" finding hyper-drive for the last metre, squeaking to a 1-second victory over Too Wicked. After 8 nautical miles, most Martins finished within 3.5 minutes of the leader.
The Fleet Captain's Dinner
is at Royal Vancouver Yacht Club
Main Floor Dining Room
Friday 18th October

1815 no host bar ,
2-course Dinner with Vegan option at 7:00pm
Cost is $64 each
(there will be no theme this year, dress business casual )
PLEASE RESERVE YOUR DINNER NOW
Dinner: 
Stuffed Breast of Chicken
Boursin cheese and wild mushrooms
Potato of the day and green beans
with Legendary Chocolate Layer Cake for dessert!
Get your tickets through PayPal here:
Prize Giving includes:
Winners of the following Fleet One Series:
Fleet Champion Series
In the Bay Series
Out of the Bay Series
Wednesday Nights
PLUS:
Most Improved Helmswoman of the year
and of course
The Biggest Bloody Blunder - have nominations ready, please!
WELCOME NEW BOAT OWNER STEPHANIE CAMPBELL
---
Congratulations to Stephanie Campbell from Anacortes, a top Washington State PHRF racer who owns Wild Rumpus, a Santa Cruz 27, who purchased Area 51 (#51) on the Labor Day Weekend, which makes it the 9th transaction of the year, equalling 2018's total! The boat was sold to her by Ken Machtley and Chris White, who donated the proceeds to Sail Orcas (youth sailing). Enjoy your first 242, Steph!
 AREA 51
There are still only 5 boats left for sale in the entire Region (Oregon, Washington, BC, Alberta), and we may yet hit 10 or 11 boat sales for 2019 as there are several buyers looking at boats.
In other news, we're not sure if Ms Campbell was part of the Area 51 raid, but people did gather near a US military base in Nevada on Friday, Sept 20 to 'see them aliens'.  Not too many aliens were found but apparently a party was had.
The evil forces of the dark side finally triumph over good at the Martin 242 Intergalactic Championships!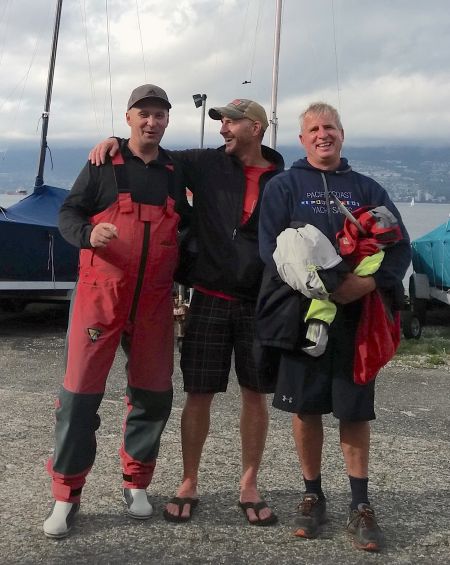 Extraterrestrials
Back in Black (#13) sailed by a three man crew of Reto Corfu, Phil Cragg, and special guest star Yury Levkovskiy (who raced most of this season on Electra) managed the win, on a weekend filled with rain, wind shifts, puffs, and wind-shadow dodging. Michael Clements and crew on Too Wicked (normally #304, but with a surprise #2 on his sail this weekend, which I can only assume was for sneaky camouflage reasons) managed to squeak out 2nd place, just two points clear of 3rd place Dirty Dog (#282) sailed by Matt Collingwood and crew.
English Bay served up some classic south-easterly conditions, putting a premium on staying on the lifted tack and sailing towards the pressure. Being on the wrong side of a shift or missing a puff often meant a big loss in the tightly packed competitive fleet, with many of the boats in the fleet managing to get some good results. Notably, Min of Mine (raced by Jeremy and Tara Smith and crew from across the Strait) looked threatening early with a 2nd place and a bullet in the first two races, and Ambergris, also picking up a bullet on day 2, surely would have been in contention if not for having missed day 1.
We managed to get 8 races in over the two days with conditions varying from very light up to 12-14 knots or so. The 6m fleet had a great turnout for this regatta, but combined with the Stars, Farrs, and Dragons on the course, clear lanes were often hard to come by. Despite their proximity to the racecourse, the tankers didn't seem to get in the way too much. The rain only fell intermittently, the sandwiches and cookies onboard were excellent (our secret weapon), and the tight racing made for a great weekend...Back in Black now officially becomes Fastest Ship in the Galaxy. Until next year.
RESULTS ARE HERE and below.
See you all at the KYC Lawrance Cup?
M242 Class
| Rank |   | Boat Name | SailNo | Club | Name |   | City | Ctry | R1 | R2 | R3 | R4 | R5 | R6 | R7 | R8 | Total | Nett |
| --- | --- | --- | --- | --- | --- | --- | --- | --- | --- | --- | --- | --- | --- | --- | --- | --- | --- | --- |
| 1st |   | Back In Black | 13 | KYC/RVYC | Reto & Phil |   | Point Roberts | | 1.0 | 3.0 | 1.0 | 1.0 | 4.0 | 1.0 | 2.0 | (5.0) | 18.0 | 13.0 |
| 2nd |   | Too Wicked | 304 | RVYC | Michael Clements |   | Vancouver | | (8.0) | 2.0 | 2.0 | 2.0 | 1.0 | 4.0 | 4.0 | 6.0 | 29.0 | 21.0 |
| 3rd |   | Dirty Dog | 282 | KYC | Matt Collingwood |   | Vancouver | | 5.0 | 4.0 | (7.0) | 6.0 | 3.0 | 2.0 | 1.0 | 2.0 | 30.0 | 23.0 |
| 4th |   | Min Of Mine | 215 | RVYC | Jeremy/Tara |   | Salt Spring Island | | 2.0 | 1.0 | (10.0) | 10.0 | 7.0 | 3.0 | 6.0 | 3.0 | 42.0 | 32.0 |
| 5th |   | Scarlett | 57 | RVYC | Ray Parsons |   | Burnaby | | (9.0) | 5.0 | 6.0 | 5.0 | 2.0 | 9.0 | 5.0 | 4.0 | 45.0 | 36.0 |
| 6th |   | Simply Red | 8 | RVYC | J & A Drinkwater |   | Vancouver | | 4.0 | 7.0 | 5.0 | 3.0 | (10.0) | 5.0 | 7.0 | 7.0 | 48.0 | 38.0 |
| 7th |   | Blowout | 27 | TCYC | Frank Rogers |   | Delta | | 3.0 | (9.0) | 3.0 | 4.0 | 5.0 | 7.0 | 8.0 | 9.0 | 48.0 | 39.0 |
| 8th |   | Ambergris | 94 | RVYC | Don Mcinnes |   | North Vancouver BC | | (12.0 DNC) | 12.0 DNC | 12.0 DNC | 12.0 DNC | 6.0 | 6.0 | 3.0 | 1.0 | 64.0 | 52.0 |
| 9th |   | Christian Bligh | 265 | KYC | Colin Potter |   | Vancouver | | 7.0 | 8.0 | 8.0 | 8.0 | 8.0 | 8.0 | (10.0) | 8.0 | 65.0 | 55.0 |
| 10th |   | Sailiant | 171 | KYC | Anthony Collett |   | North Vancouver | | 6.0 | 6.0 | 4.0 | 7.0 | (12.0 DNC) | 12.0 DNC | 12.0 DNC | 12.0 DNC | 71.0 | 59.0 |
| 11th |   | Check Mate | 231 | RVYC | Cedric Carter |   | West Vancouver | | 10.0 | 10.0 | 9.0 | 9.0 | 9.0 | 10.0 | 9.0 | (12.0 DNC) | 78.0 | 66.0 |