Thursday Night Racing At Kits Yacht Club
Thu night racing begins May 19 at KYC. The Regatta website is open here, the SI's are available, and racing starts at 6pm. The Clubhouse bar will be open after racing. 

Everyone who is not a Kits member that wants to race needs to send their boat type, sail number, and skipper name to the KYC Manager at:
This email address is being protected from spambots. You need JavaScript enabled to view it.
If any KYC boats wish to leave their boats at RVYC after racing on Wednesday night, partly to attend Beer Night but also in preparation for Thursday Night Racing at KYC, contact Michael Clements in order to coordinate this with the RVYC Dock Staff.



---
On March 30th we had just over 30 crew show up and 10 skippers, so it was a great turnout. Following the event all potential crew received an email update re next steps, as well as the names and email addresses of the skippers in attendance. An online "crew bank" is in the process of being set up on the Fleet 1 website, and all skippers will shortly receive the contact info of the folks who attended Crew Night.
New Yacht Rigger Assistant
Martin 242 owners will be pleased to know that we've recently had a new addition to the Regional ssistant yacht rigger skillset pool in the form of Evadine Grimm, whose services can be contracted through her father, Peter Grimm.
Deck Padding Contest - The Countdown Begins
All North American owners and crew are reminded that the Deck Padding Contest concludes at the North American Championships in Nanaimo on July 3, and so far we've got 5 contestants.
For details regarding the contest, prizes, and current entries, check out the information here.
Boat Measurement Prior to the NA's & BC Championships
The racing season is starting soon and the North American's are coming up fast in Nanaimo in early July followed by the BC Championships in Gibsons.
All boats will require a valid Measurement Certificate for these regattas, so now is the time to reach out to your local Fleet Measurer if you need a Certificate or need to finalize a Certificate in progress.
Note that Measurers will have reduced capacity to assist after April 30th and very little after May 31st, so best to get on it right away if needed.
Spare Parts List
A list of spare parts donated by 242 owners is under development and can be found on the Regional Buy/Sell page in the "General M242 Fleet Resources" section starting on page 60.
Boats For Sale in the Region
Only 2 boats are available for sale in the Pacific Northwest at present: Electra (hull 37) at Kitsilano Yacht Club for CDN$5,000 and Hurricane (hull 61) at Squamish Yacht Club for CDN$6,000. Check the Regional Buy&Sell page for details at www.m242fleetone.org
Join Fleet 1 or Fleet 2 - Help Support The Regional Organization
Your membership dollars help keep the Martin 242 Class the biggest, best, and most active one in the Pacific Northwest. To join one of the two Regional Fleets, go to "Member & Boat Registration" at www.m242fleetone.org
---
Welcome to the Regional Fleet, Graham Sibbald, Eric Bretsen, and Georg Reuter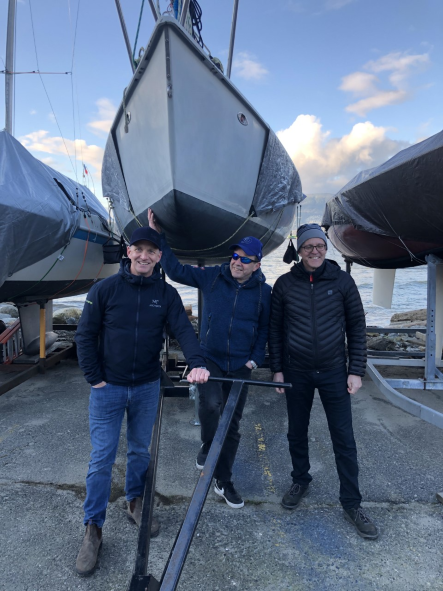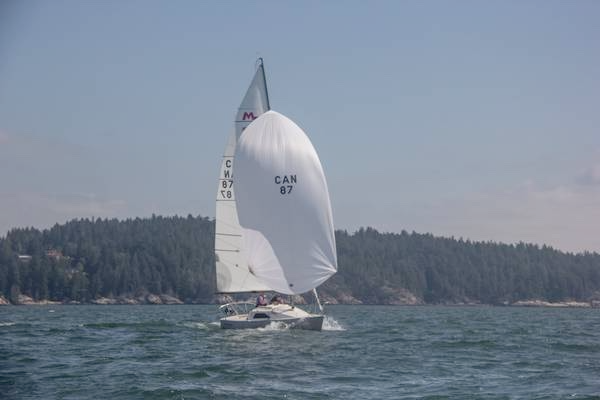 On February 17th, Jo-Ann Heinz of Kitsilano Yacht Club sold Silver Bullet, Hull #87 (listed February 6, 2022, for CDN$11,590), to Graham Sibbald, Eric Bretsen, and Georg Reuter of Vancouver, which makes it the 4th transaction of the year in the Pacific Northwest Region and the 51st in just over 5 years. Silver Bullet will remain at KYC.

Graham raced out of Schooner Cover, Nanoose Bay, a lifetime ago aboard "Free & Clear", a 26' Thunderbird, followed by "Jenny Gibson", a C&C Viking 34.

Georg has spent time cruising BC waters, and long ago crewed on a San Juan 24.  He's looking forward to joining the 242 Fleet.
Eric has been on dry land (mainly the soccer field kind) for the last 20 years, following 10 years of crewing aboard a Shark in the waters of Toronto Harbour.
With a grey hull, Silver Bullet is in very good condition with bottom paint, and comes with a 2016 Measurement Certificate that is almost completed. Outlined below is a list of improvements made to the boat since 2019:


June 2019 – new cam cleats, fairleads, bearings
August 2019 – new Honda MTYC 2.3 DHLCHC motor
February 2020 – new Velocitek Prostart
August 2020 – new spinnaker launching bag
March 2021 – new sheets and halyards
February 2020 – new jib
February 2021 – new dolly 
Welcome to the Regional Fleet, Graham, Eric, and Georg, and enjoy your first 242!
---