WELCOME NEW BOAT OWNER - MARRI TODD
Under the heading of "better late than never", belated congratulations to Marri Todd of Royal Victoria Yacht Club, who took over White Noise (#257) in late June from Kirk Westergard after sailing with him for a few years. Marri then immediately went on to race the boat in the 2019 North Americans at Orcas Island where she placed 4th overall out of the 27 boat fleet and won the Seriol Williams Trophy for "Most Improved".  Marri was following her financial advisor's advice to make a sound investment. White Noise obviously paid off.
Below are two photos of her getting an excellent start at the NA's on Day 1 and then rounding the weather mark in or near the lead. Well done Marri, and enjoy your first 242! (p.s. Sorry about taking so long to publicize your new ownership status - better late than never :) This is the 10th boat of the year to change hands - a new annual record in the Region for the Class!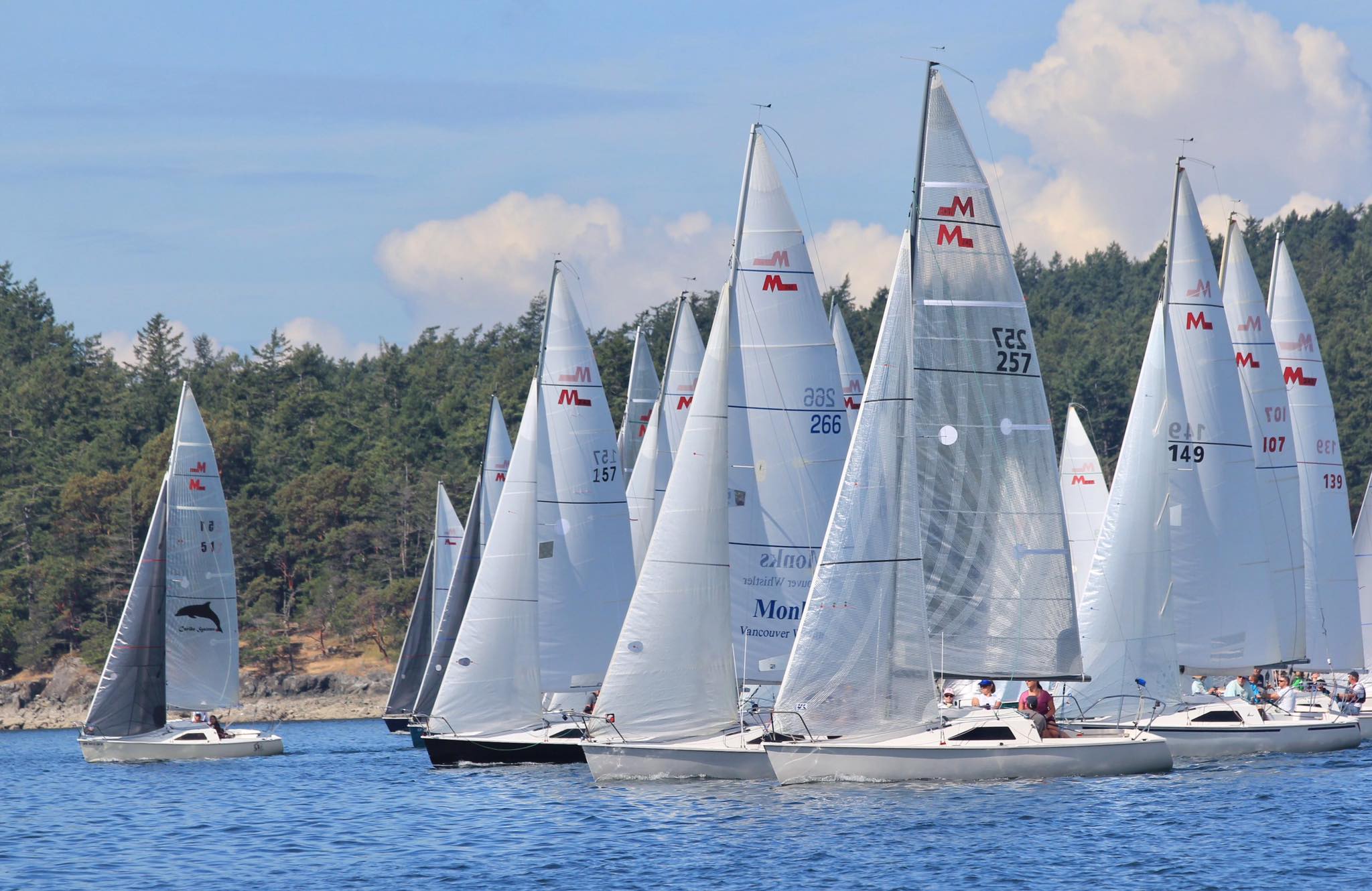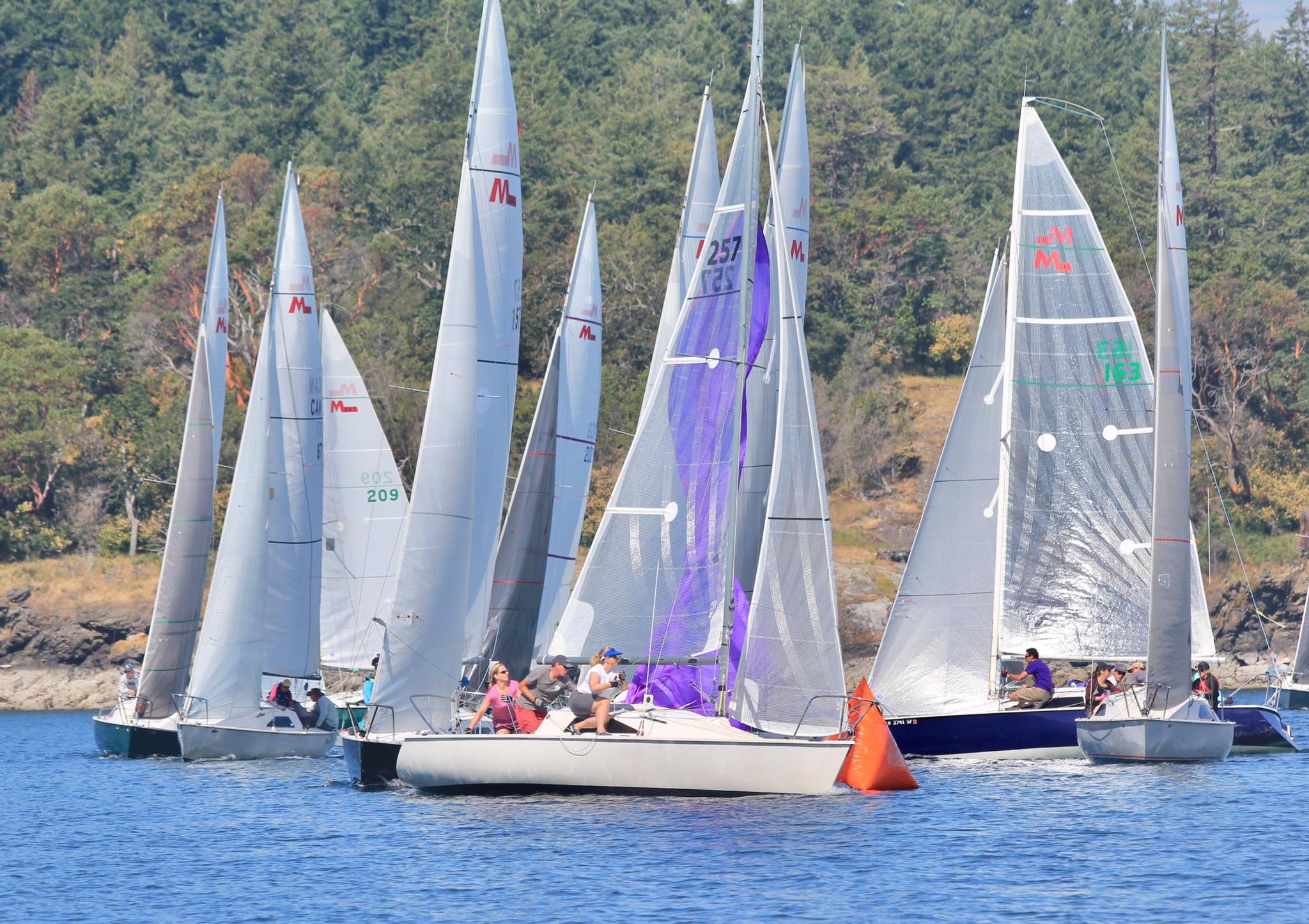 ___________________________________________________________________________________________________
A fine day on the water
with stimulating winds, sun and fun watching the tide break on Spanish Banks. Half a dozen 242s braved this Fall classic out to the Bell-buoy and back.
The usual suspects battled in a tight race with the "Galaxies Fastest Boat" finding hyper-drive for the last metre, squeaking to a 1-second victory over Too Wicked. After 8 nautical miles, most Martins finished within 3.5 minutes of the leader.
The Fleet Captain's Dinner
is at Royal Vancouver Yacht Club
Main Floor Dining Room
Friday 18th October

1815 no host bar ,
2-course Dinner with Vegan option at 7:00pm
Cost is $64 each
(there will be no theme this year, dress business casual )
PLEASE RESERVE YOUR DINNER NOW
Dinner: 
Stuffed Breast of Chicken
Boursin cheese and wild mushrooms
Potato of the day and green beans
with Legendary Chocolate Layer Cake for dessert!
Get your tickets through PayPal here:
Prize Giving includes:
Winners of the following Fleet One Series:
Fleet Champion Series
In the Bay Series
Out of the Bay Series
Wednesday Nights
PLUS:
Most Improved Helmswoman of the year
and of course
The Biggest Bloody Blunder - have nominations ready, please!
WELCOME NEW BOAT OWNER STEPHANIE CAMPBELL
---
Congratulations to Stephanie Campbell from Anacortes, a top Washington State PHRF racer who owns Wild Rumpus, a Santa Cruz 27, who purchased Area 51 (#51) on the Labor Day Weekend, which makes it the 9th transaction of the year, equalling 2018's total! The boat was sold to her by Ken Machtley and Chris White, who donated the proceeds to Sail Orcas (youth sailing). Enjoy your first 242, Steph!
 AREA 51
There are still only 5 boats left for sale in the entire Region (Oregon, Washington, BC, Alberta), and we may yet hit 10 or 11 boat sales for 2019 as there are several buyers looking at boats.
In other news, we're not sure if Ms Campbell was part of the Area 51 raid, but people did gather near a US military base in Nevada on Friday, Sept 20 to 'see them aliens'.  Not too many aliens were found but apparently a party was had.