California Fleet News
Steven Moses sends this report from the Winter Warmup Regatta sailed by our M242 friends down in Santa Monica, CA.
And a reminder for those interested - MIDWINTERS IS COMING UP FAST: FEBRUARY 19 & 20. REGISTRATION IS OPEN : 
Register Here
2022 WARMUP WEEKEND RECAPSATURDAY JANUARY 15,  SAIL TRIM CLINIC : GREG DAIR
Saturday Morning started off with an excellent sail trim clinic by Greg Dair organized by Denise George at SMWYC.  We discussed reducing trim variables in your boat, having your mast properly centered and understanding your mast bend characteristics, marking your lines for best starting trim   Although there are many ideas about how tight to have your rig, what Greg drilled down to was setting up your rig to trim the sails as they have been designed.  Once you got past that the next idea for upwind sail trim was the concept of "Build and Burn" during which he discussed primarily keeping the boom centerline and using the traveller and mainsheet to control the top half of your sail so that you go through building speed and tight pointing.  We also discussed using the backstay, outhaul and cunningham controls more aggressively than many of us have been doing.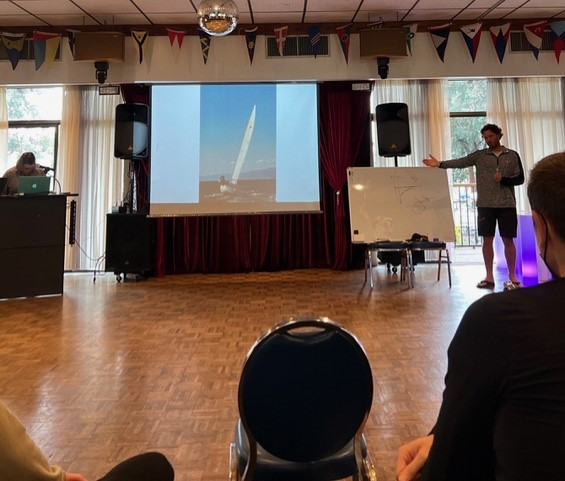 The plan was for us to go out on the water from 1pm to 4 pm to practice with Greg Dair coaching and taking pictures with Mike George driving one of CYC's ribs.  Unfortunately the wind had other plans.  The J70's postponed for the day and eventually we gave up and motored back in.  Blarney, WOMBAT, Sandbox, Lucky Jack, Sales Coll, Dean and All In all participated.   
We wrapped up the day with a debrief at SMWYC with photos that Greg took and Israel Caro, SMWYC Chef, cooked us delicious rock fish tacos - caught by Denise George.  Even though the wind was very light Greg had plenty more information to give us through photos he had taken in our glassy sailing conditions.  Thank you Denise George, Mike George, Greg Dair, Israel Caro & SMWYC. 
SUNDAY JANUARY 16,  WINTER WARMUP REGATTA  -  Dianne Leslie and Jim Murrell co-chairs
The wind gods were definitely playing somewhere other than Santa Monica Bay last weekend.  The M242 fleet dominated the numbers game against the J70's with seven M242's registered to five J70's.  Light air racing takes a special kind of focus and it was a great opportunity to try out our build and burn trim techniques. David Collins, PRO, did his best which was just a single start for us and we were lucky with that.  For two days this was the only race and it was light.  Seven M242 crews shook the dust off their sails; Sales Coll, Sandbox, Blarney, Dean, Trolly Car, WOMBAT, Dean, All In made up our fleet.  The race was commanded by All In, at every rounding I believe.  First Place went to Denise George, 2nd to Mark Sands and third place to Tom O'Connor.  Between running the clinic and winning the only race Denise George gets the weekend Kudos congratulations!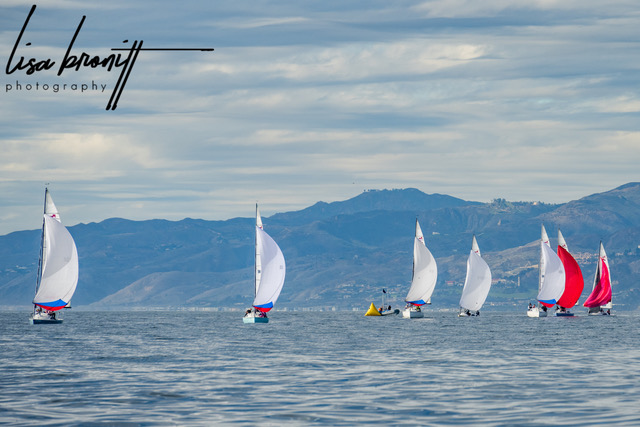 Thank you to CYC, David Collins PRO and all the volunteers on R/C who made our race happen.  They valiantly tried for a second race but it was not to be.  I also want to thank Lisa Bronitt for suppling us with photos of the race. 
CHEERS:
Steven Moses