Weekend races: fun in the sun!

Escape the dreary Vancouver winter.
Enjoy the sun and 2 days of great racing on the Pacific Ocean at Marina del Rey.
M242 Midwinter's Regatta, California Yacht Club
Feb 10 & 11, 2018
Marina del Rey, CA
-----------------
Charter boats and billeting are available.
Contact 
This email address is being protected from spambots. You need JavaScript enabled to view it.
if you are interested in being part of a crew or chartering a boat.  
Cell/text 604 360-7405.
________________________

The 2018 racing season is fast approaching and it's soon time to check over gear and equipment that didn't get replaced at Christmas.
If you haven't checked your boat in a while, remember freezing temperatures can break cockpit scuppers and even split masts.
------------------
North U
April 21, 2018
West Vancouver Yacht Club
The North U Racing Trim Seminar is offered as a one-day course with Drew Mitchell focusing on boat speed and sail trim.
For this location, lunch is included in the pricing.
Member – 115 + GST = 120.25 CDN
Skipper – 135 + GST = 141.25 CDN
Crew – 115 + GST = 120.25 CDN
Junior – 70 + GST = 73 CDN
Additional add on items will be subject to applicable taxes.
West Vancouver Yacht Club
5854 Marine Drive
West Vancouver, BC V7W2S2
604-921-7575
Check in – 8:30 am ; Seminar 9:00 am – 4:00 pm
A BIG THANK YOU TO ADRIENNE MENNELL and the Party Organizers!
The Mardi Gras theme was embraced by many, the food was delicious, the prizes were many and all well deserved, the music was right on and dancing carried many well past the witching hour.
There was a Party! Indeed
Adam Korbin and Katrina Mulberry -- It was noted that Kat came by her beads naturally. . . .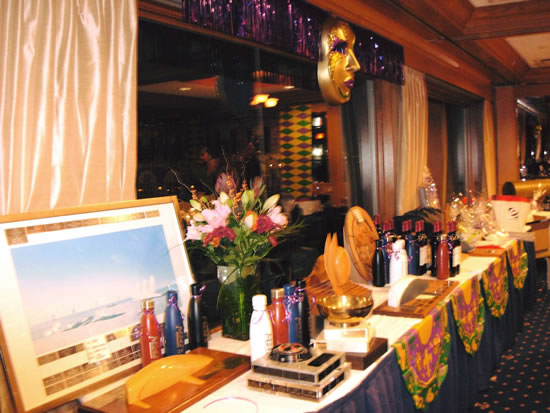 RACE RESULTS
ENGLISH BAY SCRAMBLE - M242 RESULTS
Back in Black 
Too Wicked 
Whippet 
Shadowfax 
Broos
Catch Me Now
BlowOut 
Check Mate
Christian Bligh


Results from Cowichan Bay 2017 
Revised Martin 242 8/9/2017
M242 Fleet
| Fleet | Boat | Class | SailNo | Club | HelmName | OD | R1 | R2 | R3 | R4 | R5 | R6 | R7 | R8 | R9 | Total | Nett | Rank |
| --- | --- | --- | --- | --- | --- | --- | --- | --- | --- | --- | --- | --- | --- | --- | --- | --- | --- | --- |
| M242 | Too Wicked | Martin 242 | 304 | RVanYC | Michael Clements |   | 2.0 | 2.0 | 2.0 | 1.0 | 4.0 | 3.0 | 1.0 | 1.0 | 1.0 | 17.0 | 13.0 | 1st |
| M242 | Crantini | Martin 242 | 11 | RVYC | Alex Fox |   | 1.0 | 4.0 | 1.0 | 2.0 | 1.0 | 7.0 | 4.5 | 2.0 | 4.0 | 26.5 | 19.5 | 2nd |
| M242 | Back in Black | Martin 242 | 13 | KYC/RVYC | Reto & Phil |   | 4.0 | 7.0 | 3.0 | 3.0 | 5.0 | 1.0 | 2.0 | 19.0 DSQ | 2.0 | 46.0 | 27.0 | 3rd |
| M242 | Scarlett | Martin 242 | 57 | RVYC | Team Scarlett |   | 3.0 | 5.0 | 6.0 | 13.0 | 6.0 | 4.0 | 3.0 | 10.0 | 3.0 | 53.0 | 40.0 | 4th |
| M242 | Crazy I's | Martin 242 | 203 | OIYC | Chris White |   | 7.0 | 3.0 | 8.0 | 4.0 | 10.0 | 5.0 | 6.0 | 3.0 | 5.0 | 51.0 | 41.0 | 5th |
| M242 | Dirty Dog | Martin 242 | 282 | KYC | Matt Collingwood |   | 5.0 | 1.0 | 11.0 | 5.0 | 2.0 | 14.0 | 8.0 | 4.0 | 7.0 | 57.0 | 43.0 | 6th |
| M242 | Shadowfax | Martin 242 | 209 | RVanYC | Allan and Clare Strain |   | 6.0 | 6.0 | 4.0 | 7.5 | 18.0 | 6.0 | 4.5 | 6.0 | 15.0 | 73.0 | 55.0 | 7th |
| M242 | Bella Rena | Martin 242 | 127 | LYC/RVYC | Lick The Stamp Racing |   | 10.0 | 9.0 | 9.0 | 12.0 | 7.0 | 2.0 | 11.0 | 8.0 | 13.0 | 81.0 | 68.0 | 8th |
| M242 | Simply Red | Martin 242 | 8 | RVanYC | Alan Drinkwater |   | 9.0 | 8.0 | 7.0 | 7.5 | 12.0 | 9.0 | 12.0 | 15.0 | 10.0 | 89.5 | 74.5 | 9th |
| M242 | Star Point | Martin 242 | 115 | RVYC | Reid Cannon |   | 8.0 | 10.0 | 19.0 DNF | 19.0 DNS | 3.0 | 8.0 | 13.0 | 7.0 | 14.0 | 101.0 | 82.0 | 10th |
| M242 | Whippet | Martin 242 | 5 | RVanYC | Craig Strand |   | 11.0 | 13.5 | 14.0 | 14.0 | 11.0 | 16.0 | 9.0 | 5.0 | 6.0 | 99.5 | 83.5 | 11th |
| M242 | Second Wind | Martin 242 | 2 | RVYC | Jim Hyslop |   | 19.0 DSQ | 13.5 | 5.0 | 9.0 | 8.0 | 10.5 | 10.0 | 19.0 DSQ | 19.0 RET | 113.0 | 94.0 | 12th |
| M242 | Purple Martin | Martin 242 | 163 |   | Betsy Wareham |   | 13.0 | 18.0 | 17.0 | 6.0 | 9.0 | 10.5 | 15.0 | 14.0 | 12.0 | 114.5 | 96.5 | 13th |
| M242 | King Julian | Martin 242 | 149 | RVYC | Chris Bligh |   | 12.0 | 11.0 | 12.0 | 15.0 | 13.0 | 18.0 | 14.0 | 9.0 | 11.0 | 115.0 | 97.0 | 14th |
| M242 | Dark Horse | Martin 242 | 157 | RVYC | Phil Wampold |   | 17.0 | 17.0 | 13.0 | 16.0 | 14.0 | 12.0 | 7.0 | 11.0 | 8.0 | 115.0 | 98.0 | 15th |
| M242 | Mongoose | Martin 242 | 260 | NYC | Tod Gilbert |   | 14.0 | 15.0 | 10.0 | 11.0 | 16.0 | 13.0 | 17.0 | 12.0 | 9.0 | 117.0 | 100.0 | 16th |
| M242 | Min of Mine | Martin 242 | 215 | RVYC | Tara Smith |   | 16.0 | 12.0 | 15.0 | 10.0 | 15.0 | 15.0 | 16.0 | 13.0 | 16.0 | 128.0 | 112.0 | 17th |
| M242 | Treachery | Martin 242 | 267 | OIYC | Ken Machtley |   | 15.0 | 16.0 | 16.0 | 17.0 | 17.0 | 17.0 | 18.0 | 19.0 RET | 19.0 RET | 154.0 | 135.0 | 18th |