Welcome to the Regional Fleet - Mike & Rosemary Cannon
SOLD - 7th boat of 2023 to change hands - Victoria, BC on July 7th (non-listed transaction): Crown Royale (hull #281) - sold by Phil & Val Leitch to Mike & Rosemary Cannon of Victoria. 7th transaction of the year and the 66th in 6.5 years. The boat came with good sails, a yard dolly, a small outboard engine, and a 2016 Measurement Certificate.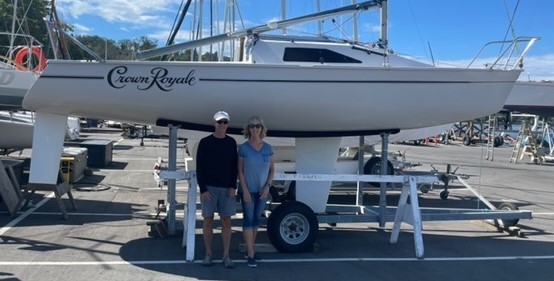 Mike has been sailing various boats for over 50 years, starting out racing Sabots on Salt Spring Island.  He graduated to Lasers back in the 80's then moved on to Fireballs which was where Rosemary got her introduction to sailing.  He and Rosemary then raced a Taser for many years.  Now after 20 years of summer cruising on their Beneteau 35s5, with racing limited to a bit of crewing for others on the side, they are both excited to be joining the M242 fleet in Victoria.
And they know what they're doing, finishing 3rd in the Canadian Championships at Cow Bay in early August - well done!
And don't worry - Phil & Val & family will be back in 242's once Phil gets a modest bionic man makeover done in the near future.
Enjoy your first 242, Mike & Rosemary!
---