Weekend races: fun in the sun!

The Annual General Meeting is this Thursday, Jan. 25, 1900 hrs. Royal Van North and South Board rooms (downstairs).  Plan your season.
HAPPY NEW YEAR!
Start the season with a plan!
Let the Executive know what will make a great season for you.
Come to the Fleet One Annual General Meeting.
Fleet One Annual General Meeting
Royal Vancouver Yacht Club
Thursday, January 25th
1900 hrs (7:00pm)
North and South Boardrooms (Downstairs next to Star & Dragon)
* * *
Join the discussion about M242 racing in 2018. 
Members of Fleet One only can vote so,
Pay membership fee and become a member of the M242 fun Fleet.
CHECK OUT THE PRELIMINARY CALENDAR HERE
-----------------
After you've got your plan blocked out:
Escape the dreary Vancouver winter.
Enjoy the sun and 2 days of great racing on the Pacific Ocean at Marina del Rey.
M242 Midwinter's Regatta, California Yacht Club
Feb 10 & 11, 2018
Marina del Rey, CA
-----------------
Charter boats and billeting are available.
Contact 
This email address is being protected from spambots. You need JavaScript enabled to view it.
if you are interested in being part of a crew or chartering a boat.  
Cell/text 604 360-7405.
________________________

The 2018 racing season is fast approaching and it's soon time to check over gear and equipment that didn't get replaced at Christmas.
If you haven't checked your boat in a while, remember freezing temperatures can break cockpit scuppers and even split masts.
------------------
A BIG THANK YOU TO ADRIENNE MENNELL and the Party Organizers!
The Mardi Gras theme was embraced by many, the food was delicious, the prizes were many and all well deserved, the music was right on and dancing carried many well past the witching hour.
There was a Party! Indeed
Adam Korbin and Katrina Mulberry -- It was noted that Kat came by her beads naturally. . . .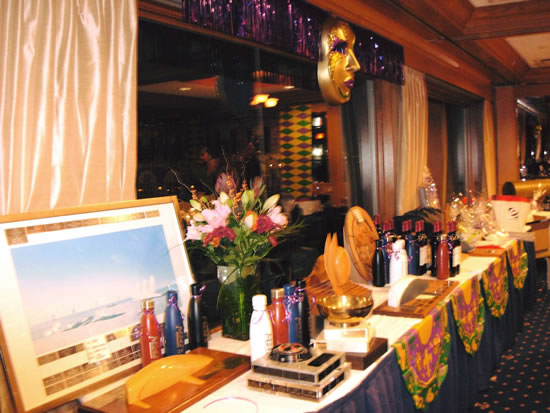 KITS YACHT CLUB'S LAWRANCE CUP
The Lawrance Cup is a race to the Bell Buoy which starts at 1300 at the KYC dock. Beware of the rocks to the West of the floating dock at KYC.
Submit your elapsed time between the start and finish to the KYC Office before 1800 on race day. The elapsed time must be certified with the signature of the boat's skipper. No boats will be recorded as having finished after 1800.
M242s will be racing under One-Design rules. Motors are not required on the back of the boat.
There are eight M242s committed to race so far.
Registration link here
---
ROYAL VICTORIA YACHT CLUB'S THERMOPYLAE REGATTA
October 14-15, 2017
Named after the famous clipper tea ship, Thermopylae is a big end of season keelboat and one-design regatta.
It includes both distance racing and around the buoy racing in the waters off Oak Bay and Victoria.
---