Hits: 18
BC Sailing COVID Update
Feb 2021 Update on COVID-19 protocols from BC Sailing: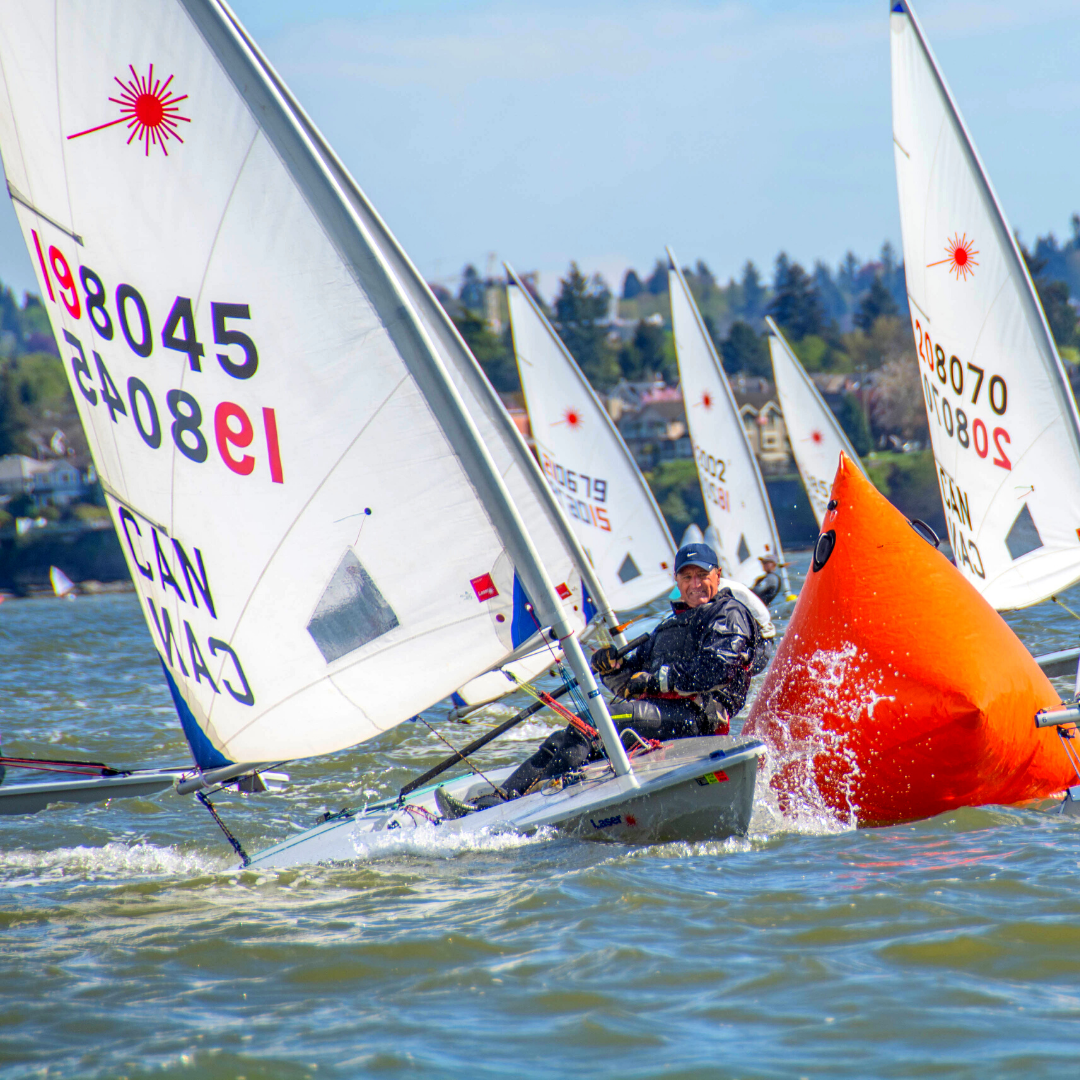 BC Sailing has received several inquiries regarding the recent extension of the Provincial Health Orders (PHO). This newsletter is intended to help clarify sailing specific activities that are permitted under the PHO. 
Adult Sailing

Outdoor organized sport activities for adults (people aged 22 and over) are restricted to 4 or less people.  For example, 4 singlehanded boats or 2 doublehanded boats.
Training activities only.
Crew should be household only at this time as participants must maintain a distance of 3 metres from one another unless everyone lives in the same private residence.
Youth Sailing
Children and youth sport activities do not have the same gathering restrictions that adults do.  Children and youth are permitted to gather in group sizes of up to 50 people, including coaches or organizers. 
3 meters of physical distancing is required at all times.  If physical distancing is not able to be maintained the activity is not permitted.  Singlehanded sailing only unless both crew live in the same private residence.
These restrictions apply to on-water as well as land-based training.  Children and youth, in this instance, are people under the age of 22. 
Regattas
Regattas are not currently permitted under the PHO, and as such are not currently being sanctioned by BC Sailing.
High Performance Exemption
High performance athletes can train, travel and compete together. They must follow the COVID-19 safety protocols of the provincial or national sports organization they are affiliated with.
To qualify as a high-performance athlete, you must be identified by the Canadian Sports Institute Pacific as a high-performance athlete affiliated with an accredited provincial or national sports organization.
BC Sailing Covid 19 UpdateFeb 26,2021
As of February 25, 2021 the Office of the Public Health Officer indicated that the current provincial restrictions are to remain in effect. In their statement, they said that they are closely monitoring cases and rates of transmission and are looking ahead as to when it will be it safe to increase our social interactions in a limited way, which could include opportunities for sport.
Read the Official Statement Here


---
Hits: 80
A Family Affair
Jalapeno is another historic Martin 242 – hull #3 built in 1981. Jalapeno was raced out of Squamish Yacht Club (SYC) for many years by the Chuck Spani and Ron Vandergaag families.  The family crew consisted of their wives and/or their sons.
For the past fifteen years however, Jalapeno has been owned and raced out of SYC by the Chelswick family.  The crew has always been dad Ralph, along with sons Kirk and Trevor.  The fourth was usually a Junior sailor from our SYC Sailing School, which Trevor and Ralph founded.  Two years ago, at the age of eleven, grandson Gavin became the full time fourth crew member.  That made three generations of Chelswick guys. Very cool! On occasion the Jalapeno crew is also joined by grand-daughter Kailey, such as on the local Father's Day race.
The four guys also have their own boats.  They include three sailboats (Opti, Hobi 18, Nautilus 40) and one powerboat (Maxum 21).  The net result is no shortage of opinions on race day.
A real plus is that Sunday Race day brings the whole family together, which may not occur that often otherwise considering their busy schedules. Apré Sunday race might also include a Sunday family dinner.
The Martin 242 Jalapeno: truly "A Family Affair".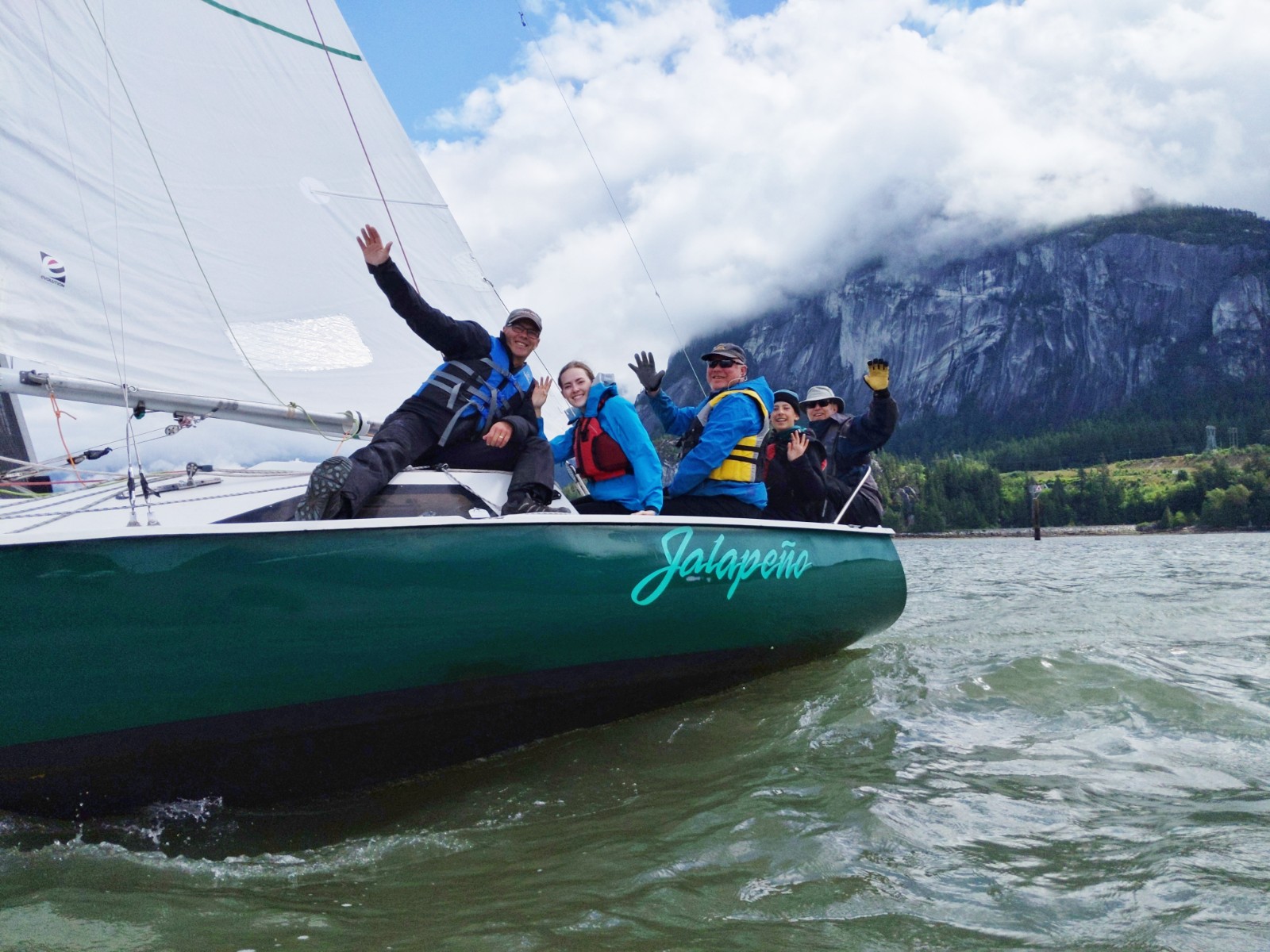 ---
Hits: 123
The "racing concept of the month" articles are way of sharing the general racing knowledge that has been developed over the decades in the Martin 242 fleet – this is hopefully the first of a series. All are loosely based on the excellent content in this article by Michael Clements.
Why do we all go left in a westerly anyways?
The sun is shining on a warm mid-July weekend morning. The air on English Bay is crystal clear with no hint of haze over Vancouver Island. Some puffy white clouds are starting to form in the east over the valley. You launch your Martin 242, crew bright eyed and ready to race. A dark wind line is already visible in the west promising another great day of racing in a westerly thermal breeze on English bay.
Fresh from re-reading your favourite racing tactics book last night you resolve to take some of the lessons to heart this time out. Foremost - one of the golden rules of sailboat racing – stay in the middle of the course! The logic makes sense. Avoid the laylines at all costs until a few boatlengths to the rounding. It's difficult to accurately call the layline from far out, so you're likely to be either overstood or understood at the mark. Even if you manage to optimally tack just a bit below layline sailing upwind, there are very few tactical options once you're in a corner. In a header boats to leeward will gain and you can't tack onto the lifted tack anymore because you're too close to the layline. In a lift you are overstood, so again any boats to leeward will gain because you sailed too much distance by going outside the layline. To make matters worse, if you're near the port layline rounding the mark in potential sea of boats on the starboard layline will be a nightmare.
You get a great first start in a building westerly, and you elect to initially stay with the pack as they all charge towards the port layline. Several boats overstand the layline by several lengths. The lead boat tacked a bit early and looks to be just below the port layline, but they elect to tack and cover the boats further to the left and overstand with them, surely pure madness!  With the wise words of Stuart Walker still ringing in your ears you make a conservative tack well before the layline to stay closer to the middle of the course, keeping your tactical options open. Three quarters of the way up the beat, and much to your chagrin, every boat to the left of you has come screaming down over top of you on a close reach, burying you to yet another mid-pack weather mark rounding. Where did it all go so wrong?
Welcome to the English Bay Westerly. So why do we do it?
Check out Figure 2, below (where's Figure 1, you ask? Don't ask.) The westerly thermal breeze tends to fill in in the late morning at around 11 am. It will consistently increase until it hits its maximum for the day at around 2:30 pm. As it fills, it tends to bend onto the south shore. Later in the day, after thermal heating, it will blow more directly down the bay. As the wind builds there may be temporary oscillating shifts but once filled in, the direction seems relatively stable.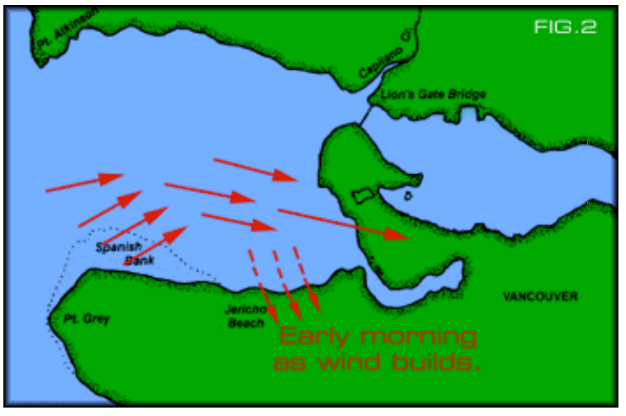 So 2 important things:
As the westerly first fills in, there will often be a big left shift. Left shift = go left. Plus there's often a distinct line of pressure filling in from the west. It's always best to be first to the new breeze. New breeze to the left = go left.

Because of the geography of the shoreline to the south, there is also a persistent geographical back (left shift) as you sail west up the bay, even after the breeze is established. The amount of this back from the leeward to the windward mark can be in the order of 10-15 degrees. Again left shift = go left.
Also…tide! Relatively speaking, the current is always rotating clockwise in English Bay, check out Figure 5. (Figures 3 and 4? Don't ask.) The flood is harder outshore and weaker inshore due to the changing depth of the bay. Generally speaking, if you are heading west, sail along the south shore. During the transition from a high flood to an ebb, there is often even a back eddy starting along the south shore (see the green arrows). Again, upwind in a westerly = go left!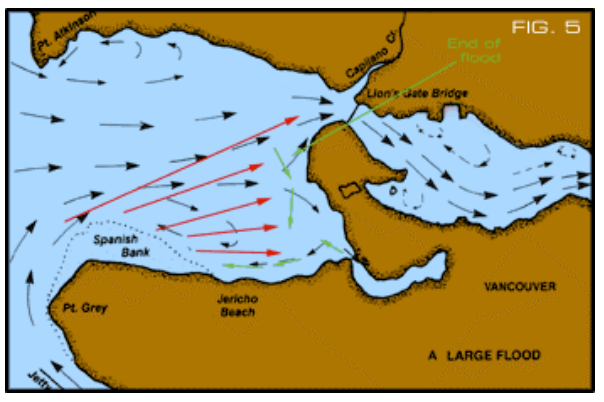 So what happens in the English Bay westerly is the typical "low risk" strategy of avoiding the corners is reversed. It's often much lower risk to well overstand the port layline, usually the further left you can get, the further ahead you'll be at the weather mark. Because of this; there are few to no 'passing lanes' so starts and boat speed are at a major premium in a westerly. It often pays to start near the pin even if the boat is favoured by as much as a length or two!
Some Exceptions!
Late in the day, say around 7-8PM as you're starting the second beat of the second Wednesday night race, I find the dying westerly sometimes "pumps" north before completely dying. If you're playing the left as usual one or two boats that decide to take a flyer to the right side of the course can sometimes come out way ahead. The problem is, catching this final shift is Very Tricky, and it's only sometimes.

If the westerly is not fully established, or if it's a non-thermal (system generated) westerly (characterized by more cloudy/overcast or clearing weather), the wind may be more shifty than in a "regular" westerly. It still often pays to go left especially in any kind of flood, but there's more likely to be a few right shifts that can benefit boats sticking closer to the center of the course.

One of the few times you can revert to more 'standard' racing strategy and make it work in a normal westerly is in a strong ebb, especially out in the middle of the bay away from the south shore. The progressive geographic shift is still a factor, but a strong ebb current can mean an early tack to port even well before the layline can pay off.
- written by Reto
Credit: this article draws heavily on the descriptions of Winds and Tides on English Bay originally developed for the 1997 J/24 Canadian Championship at RVYC. Content by Claire Adams, former head instructor at RVYC, with assistance by Past Commodore Don Martin and Peter Chandler from the Institute of Ocean Sciences in Victoria. The graphics were provided courtesy of AREA51 Interactive, a website design company in Vancouver.


---
Hits: 91
Here's the first (hopefully) of a new series where we try and highlight a boat owner and get to know a little more about who they are and what they're doing with their Martin 242.
Manfred Burandt of Pender Island Yacht Club bought Kermit back in March 2020. Kermit has some history, it is Hull # 01, the first production M242 built in 1981! Originally called Teesa, (Don Martin's daughter's name, according to Manfred), it was first raced by Don Martin for two years, and then sold to Gerry Luco of Victoria who owned the boat for 37 years and renamed the boat Kermit. The boat flying a spinnaker on the original M242 brochure is Kermit!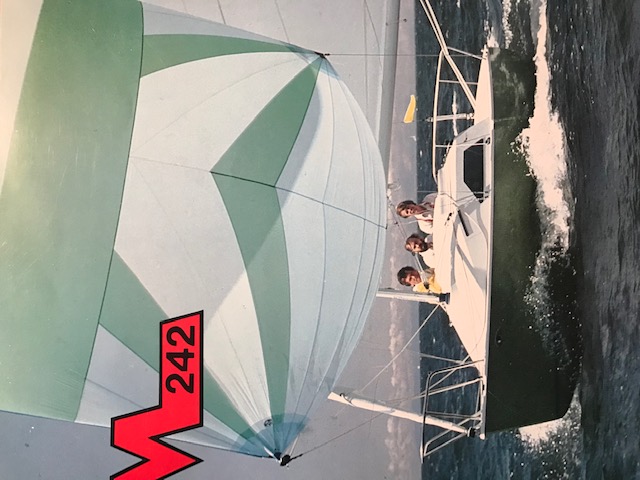 Martin 242 Brochure Circa 198?


Manfred's interest in the Martin242 class began in 1983 when he purchased hull #61 and raced in the Sidney area through the Canoe Bay Sailing Club and Sidney North Saanich YC, until he sold the boat in 1990. Martin 242s in those days were under PHRF and he really enjoyed racing among the bigger boats.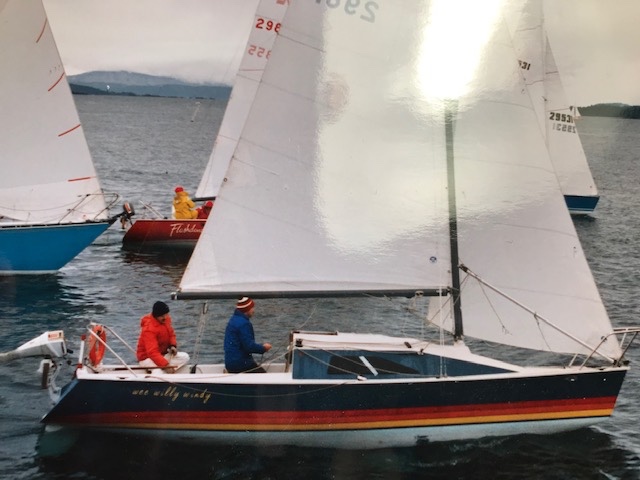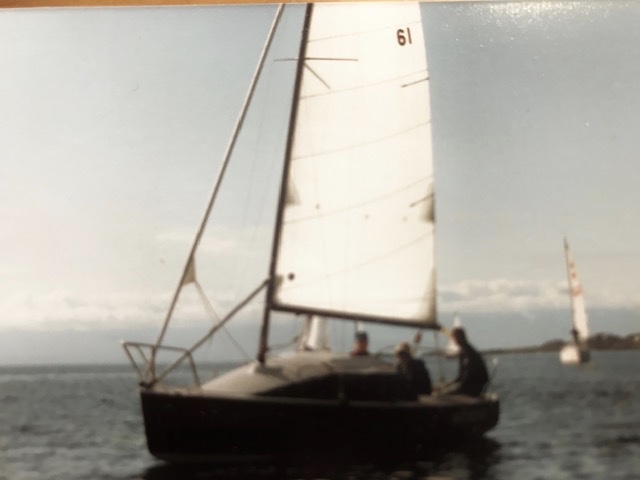 Manfred's first M242, hull #61
Manfred is in the process of doing some refurbishment to the boat. This spring he plans to haul out and epoxy the hull, which has never been done, fair the keel, and replace the rudder bearings that Ken Holland made up. He's also planning to refurbish the deck and cockpit. 
Although Manfred doesn't plan on getting into "serious racing", he has been doing some club racing out of the Pender Island Yacht Club. He reports:
"Boat for boat Kermit is faster than the other boats in the yacht club, and even with PHRF time correction given to other boats I managed to win the Spring and Fall series. Getting back into racing after a thirty-year absence, now in my seventies, and not sailing for that time, feels kind of like riding a bike - once you learn you never forget. It all came back very quickly. I appreciate Michael Clements' considerable information on the M242 which helped to re-acquaint myself with the finer points of boat handling and maintenance.


Living on Pender Island and racing with the Pender Island Yacht Club, my home port is Thieves Bay Marina. There is a dedicated group of racers and a wide variety of boats that each have their strong points depending on wind, weather, and tide conditions. Racing in the area between Pender, Salt Spring, Prevost, Moresby, Portland, and Active Pass is sometimes fun with heavy tides and dodging several large and smaller ferries all in the same area at one time travelling to and from Swartz Bay. The ferry captains are very accommodating and usually maneuver around the fleet scattered all over."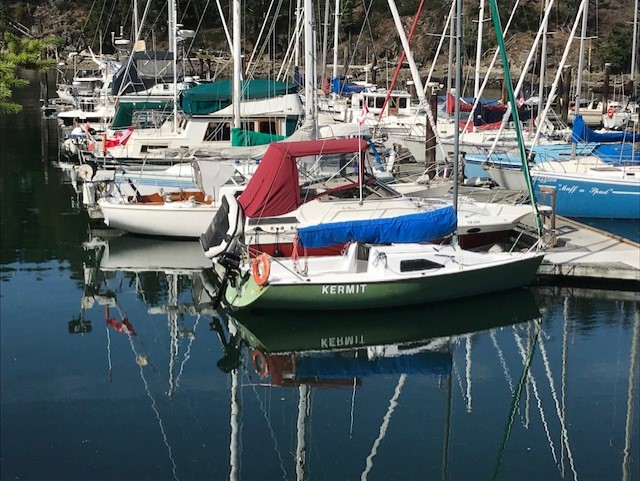 Kermit at the dock on Pender Island 
Keep winning those "not serious" races Manfred!