Details

Hits: 41
It's time to sign up and/or register your boat for next season!
A Skipper and boat are registered together so that the boat's sail registry is linked to a particular person.
Ways to Pay:
1. Through snail mail by mailing a cheque to the Secretary along with a completed Membership Invoice Form available HERE.
2. Interac Email money to: This email address is being protected from spambots. You need JavaScript enabled to view it. (use Boat or First name as question-answer). Attach a completed copy of the Membership Invoice Form with the email or money.
3. Complete the following and pay online through PayPal. (PayPal accepts credit card payments).
Details

Hits: 125
2020 NORTH AMERICANS TO BE AT NANAIMO ON JULY 4/5
Following a recent survey of 74 Martin 242 owners in North America and 1 from Japan (with 53 total responses, or 71%) on November 4th, Fleets 1, 2, and 3 jointly selected Nanaimo on Vancouver Island as the 2020 North American ("NA") championship venue.
The event will be part of the regular SIN Regatta hosted by the Nanaimo Yacht Club ("NYC") on the July 4/5 weekend after Canada Day and during the US Independence Day holiday long weekend.
The Fleets selected Nanaimo in recognition of it being the top overall choice of Survey respondents, both from an overall scoring perspective and also from those who ranked it as their 1st or 2nd choice relative to the other 3 venue options.
Nanaimo has also seen a modest resurgence in 242 ownership these past few years, and the NA's will help propel the growth of the Class on Vancouver Island, as well as providing most competitors with the opportunity to experience a new and exciting venue. This will be the first time that the NA's have been held in Nanaimo, and we expect to get over 30 boats based on the Survey responses.
Plan ahead now! As Nanaimo is a major business and tourist destination on Vancouver Island, competitors are advised to research accommodation options well in advance of the event.
The regatta organizers will be looking into the possibility of competitors being able to stay on NYC member boats in their Marina to help defray costs, and Ken Holland has a 2/3rds-acre property a few miles from the Club where people can tent or park Campers and RV's. More information on accommodation options will be provided in subsequent updates.
Limited moorage will also be provided at NYC for motherships, and there are several commercial marinas nearby and excellent anchoring also in the Inner Harbor.
The SIN website will also provide information about travelling to NYC, both via water delivery, and via ferries (Horsehoe Bay to Nanaimo, Tsawwassen to Duke Point, and Port Angeles to Victoria). Air transport is also readily available to competitors.
Lots of social events are planned, including the world-famous Optimist races on the Friday night as part of the Dock Party with music, as well as a dinner and band on Saturday night.
More information will be available soon.
For any immediate questions, please contact This email address is being protected from spambots. You need JavaScript enabled to view it., Martin 242 NA's Coordinator, via This email address is being protected from spambots. You need JavaScript enabled to view it. or via cell at 1-250-327-2092, who will be working closely with the SIN Regatta Committee.

Details

Hits: 110
Congratulations to Michael Clements - Too Wicked!
The Too Wicked team took care of all the Fleet One series Championships again for the 2019 season.
Fleet rankings were handed out at the Fleet Captain's Dinner on October 18th at the Royal Vancouver Yacht Club.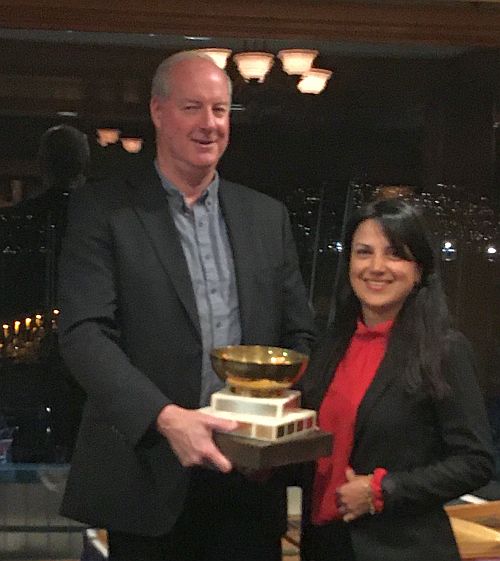 Michael and Afrouz accepting the "Annie P" Trophy awarded annually for the winner of the Fleet One Wednesday Evening Series.
Michael and crew also took home the honours for all the Fleet One series including Fleet Champion, Out of Bay and In Bay Series.
Details

Hits: 172
WELCOME NEW BOAT OWNER - MARRI TODD
Under the heading of "better late than never", belated congratulations to Marri Todd of Royal Victoria Yacht Club, who took over White Noise (#257) in late June from Kirk Westergard after sailing with him for a few years. Marri then immediately went on to race the boat in the 2019 North Americans at Orcas Island where she placed 4th overall out of the 27 boat fleet and won the Seriol Williams Trophy for "Most Improved".  Marri was following her financial advisor's advice to make a sound investment. White Noise obviously paid off.
Below are two photos of her getting an excellent start at the NA's on Day 1 and then rounding the weather mark in or near the lead. Well done Marri, and enjoy your first 242! (p.s. Sorry about taking so long to publicize your new ownership status - better late than never :) This is the 10th boat of the year to change hands - a new annual record in the Region for the Class!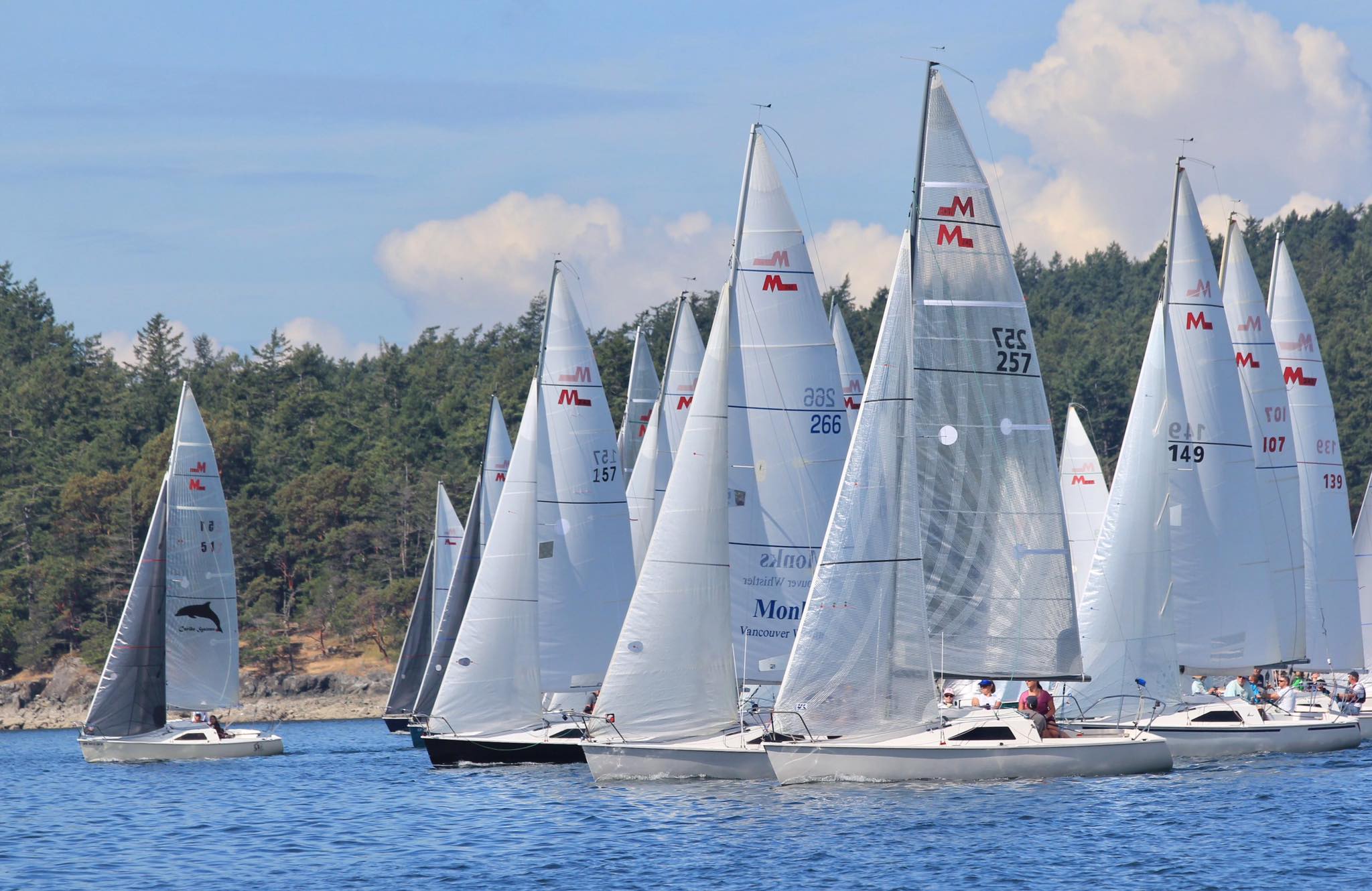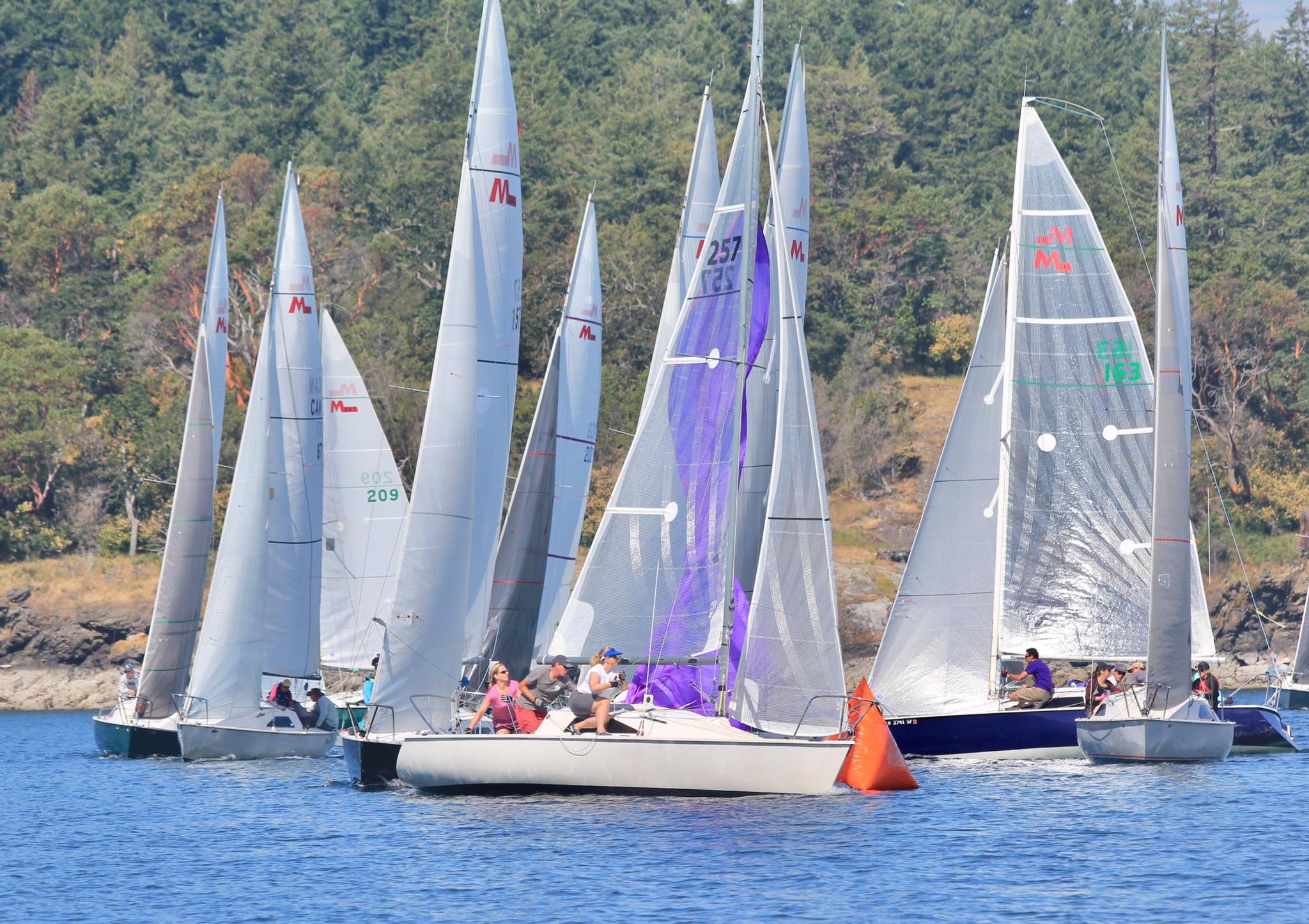 ___________________________________________________________________________________________________