A Great Regatta in a beautiful setting.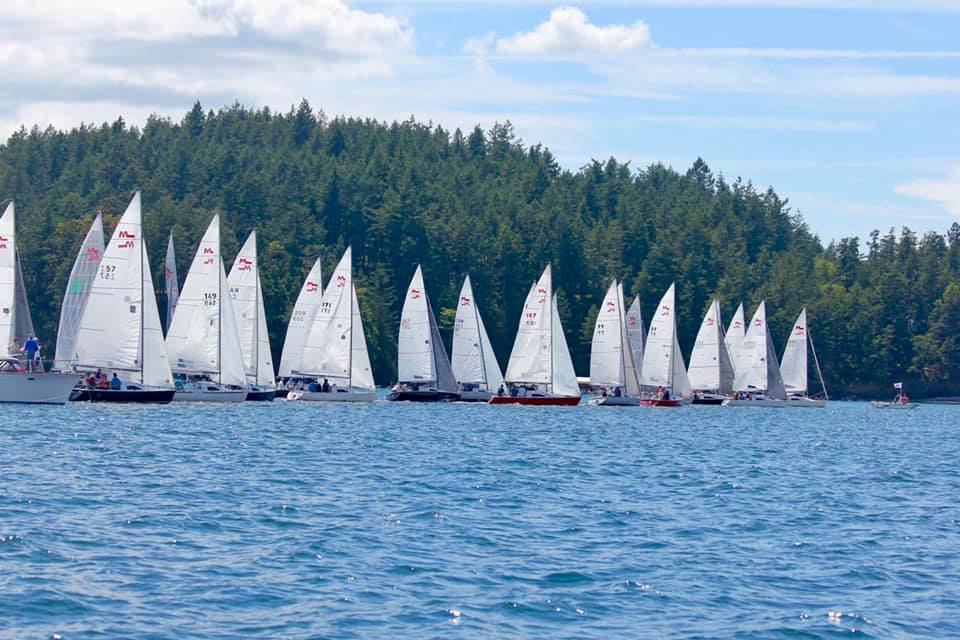 Photo courtesy Stephanie Campbell
Congratulations to Michael George and crew on 'All In' from Marina Del Rey for taking home the Big M perpetual trophy.
Michael Clements and crew on Too Wicked  were second with Alex Fox and crew on Dark Horse, third.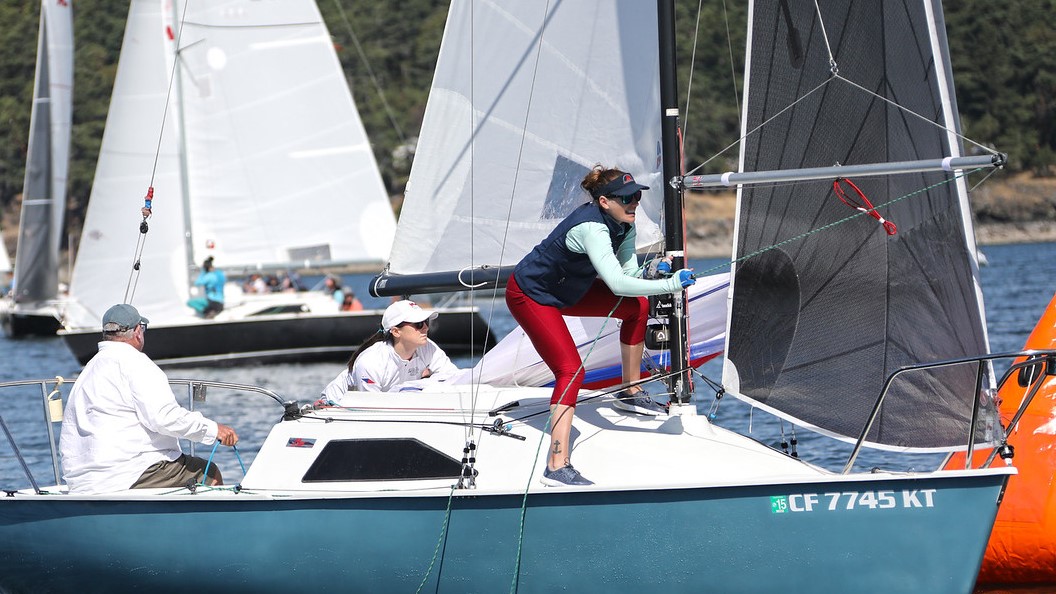 Michael George, Jen Arrington and Jen Hylander with Alan Field hidden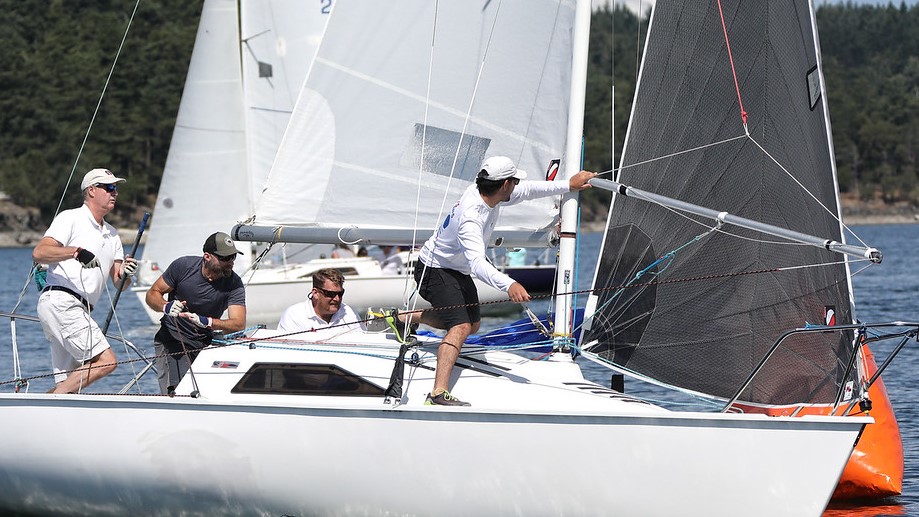 Michael Clements, Mica Van der Heide, Michael Jarrott, Justin Hall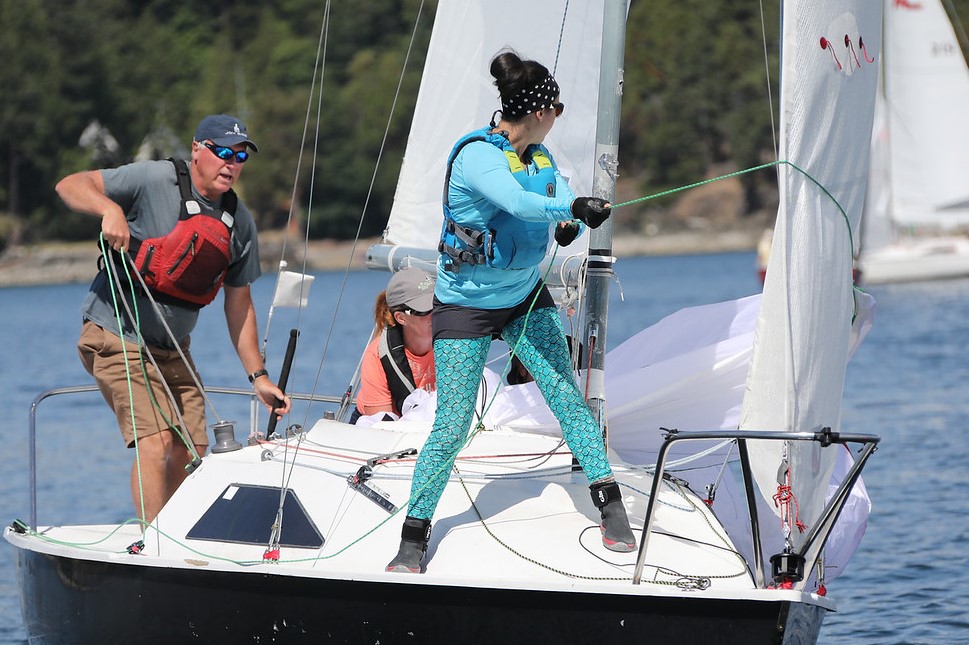 3rd place: Alex Fox, Heidi Leckenby, Lou Hamel, Karl Forsberg
West Sound on Orcas Island was a terrific venue with friendly if shifty breezes and the Orcas Island Yacht Club put on a fantastic Regatta.  Congratulations to Ken Machtley and the organizing crew for raising the bar on hosting the North Americans in the Pacific Northwest.  Can't beat good food, good music, good weather, and catch up with old friends, to make a truly enjoyable event.  West Sound is a great venue and certainly on the map for more 242ers from now on!
It was a test for everyone - a fun test!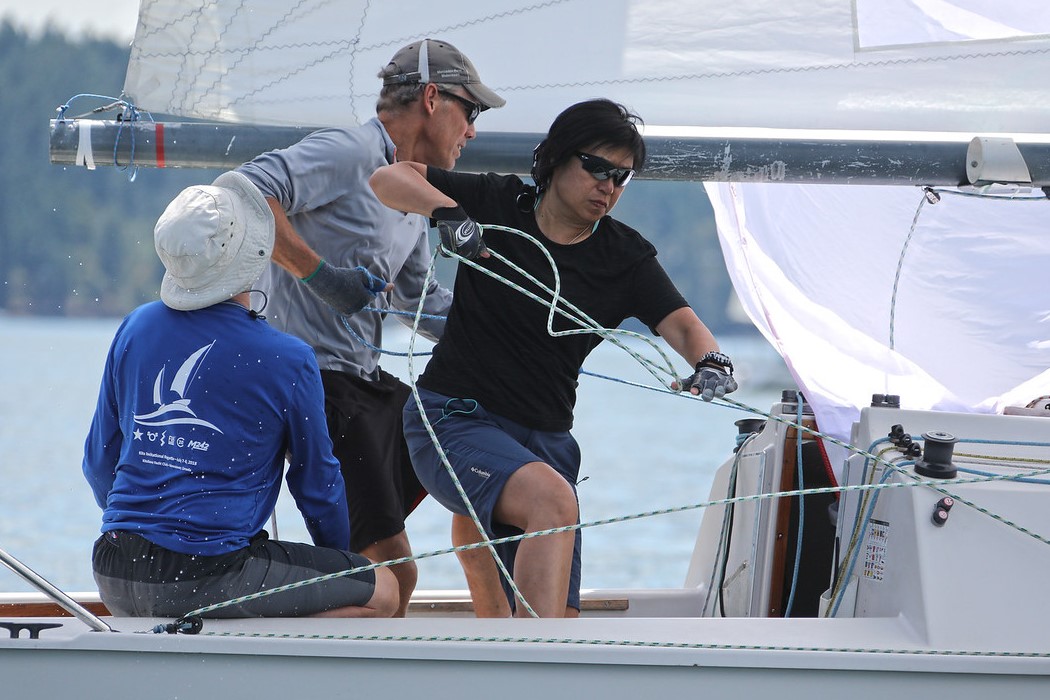 Matt Collingwood, Tim Murphy and Connie Leung taking care of business on Dirty Dog
"ON YOUR MARK, INC." GETS SET TO GO FOR RACEY WOMEN IN OREGON

---
Congratulations to On Your Mark, Inc., a new non-profit that was formed to encourage women in the Portland, Oregon, area to get more involved in the sport of sailboat racing. The organization was set up recently by Edie Felix and Karen Anderson, who accepted the donation of Wild Women from Marianne Thompson. Board members are serious racers and coach and train women who have some sailing experience and want to learn more about the skills involved. 
Martin 242s are terrific for training and "On Your Mark, Inc" has grabbed one of the relatively scarce Martins available to aid in their programme.
It is the 6th Regional transaction of 2019, and there are only 5 boats left for sale in the entire Region (Oregon, Washington, BC, Alberta) - a new low, and we know of two buyers at present that are looking at boats for sale.
LETS SELL SOME MORE BOATS!

---

So far in 2019 6 boats have changed hands in the Region, and Chris Bligh's boat in Blaine has been chartered for the NA's (but is still for sale afterwards). 

 

At present there are only 5 boats for sale in the Pacific Northwest and Alberta and you can see them all on the Fleet One Buy&Sell page 

here. 

The most likely buyers are folks we already know:

M242 crew who want their own boat to race
People who own other boat types and want to switch, or could be talked into it
People who have expressed an interest in getting back into racing One Design, etc.

If you have anyone in your orbit who fits that description, steer them to the Buy&Sell page and walk them thru the attributes of the various boats that are listed. 

In 2018 we had 9 boats change hands, 2 retained ownership, and 1 moved to BC from Ontario! (and it is racing in the NA's - look for Coal Dust, #45) Quite a development, and one that builds on the 7 or so boats that changed hands in 2017. Perhaps this is the year we really clear out the modest backlog. 

The 2019 NA's are at Orcas Island in Washington State on June 29/30, so use this as a selling tool with potential buyers, where they can join 27 other boats for some tight racing! 

If you or the potential buyers have any questions about the boats for sale, contact the owners or Michael Clements (

michael.clements13@gmail.com

).