Thermopylae Regatta Results
FLEET TWO FUN IN VICTORIA
Michael Clements makes sure the results are recorded!  Well done Star Point with Jeremy Smith and Michael.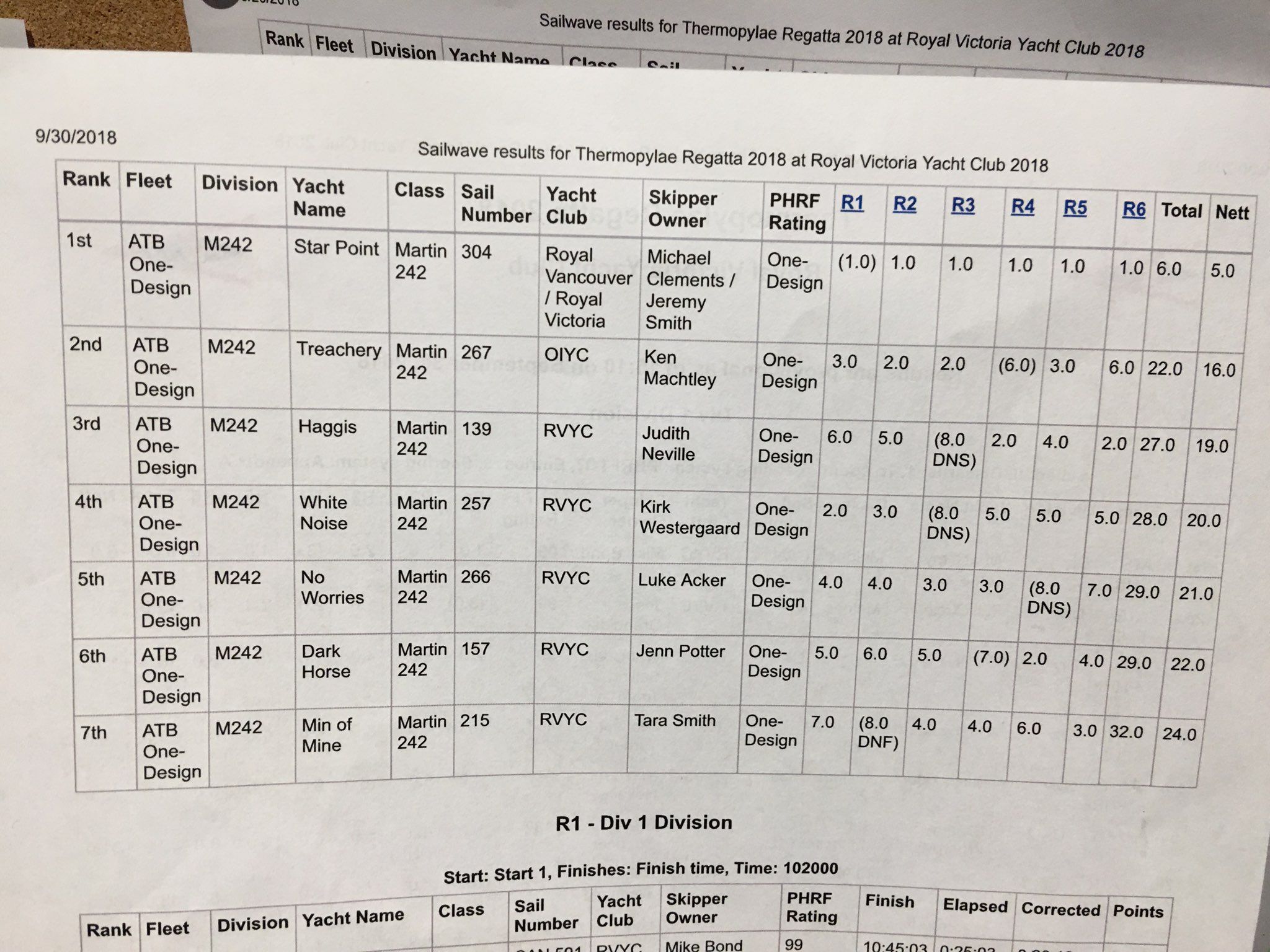 Coaching from Michael Clements on Flying the spinnaker in a Martin 242
In the photo below you can see the standard spinnaker flying positioning, whereby the foredeck person also flies the chute, as well as handling the pole during a gybe (via handing off the sheet to an aft crew member), which is quite functional for many crews.
In addition, all 3 aft crew are seated well forward up against the bulkhead, which is optimal positioning of weight for light to medium conditions.
The boat is also fractionally heeled to windward, and the boom is up against the shrouds, both of which are optimal.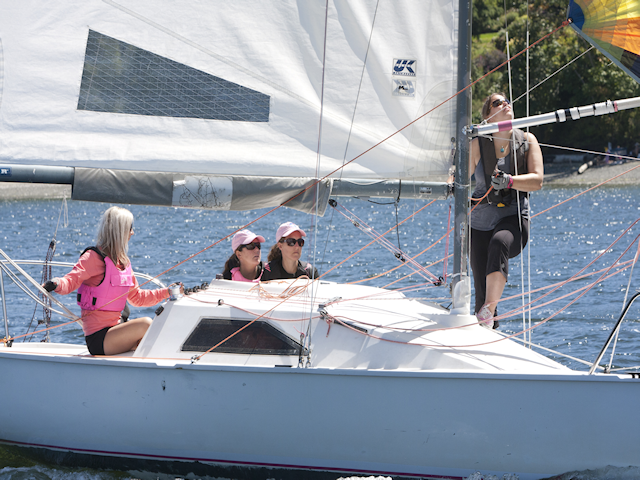 ---
In the 2 photos below you can see slightly revised spinnaker flying positioning, whereby the foredeck person only handles the pole during a gybe, and a person in the cockpit handles the sheet and the guy at the same time while standing on the side of the deck to get maximum visibility of the spinnaker. This style is of course much more difficult to achieve in very windy conditions, and almost always requires the guy to be wrapped around a winch.
For those who are not comfortable standing on the edge of the deck, it is perfectly reasonable to be standing somewhat inboard.
In addition, when utilizing this method, the foredeck person is now freed up to look all around at the tactical situation and wind puffs.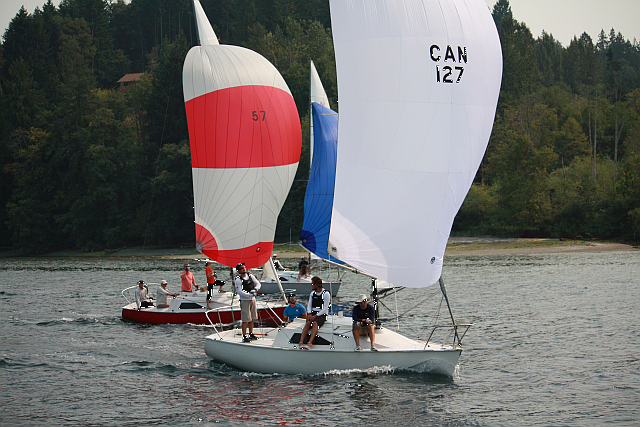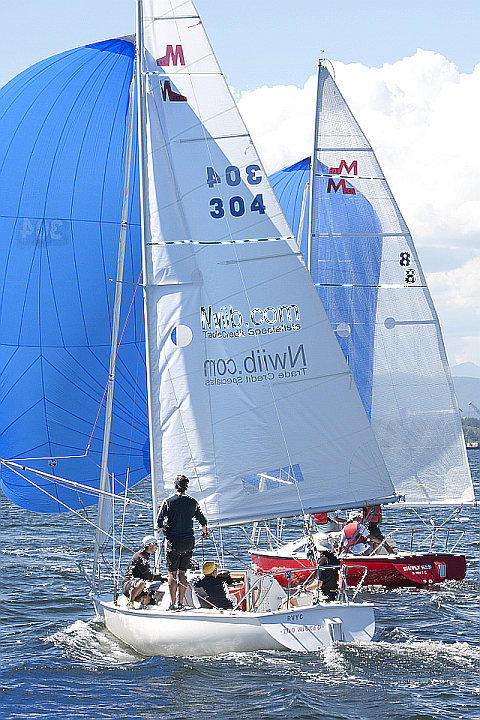 Because the person flying the spinnaker will be adjusting the pole forwards and backwards quite frequently, ideally the pole uphaul and downhaul are never cleated so that they can be instantly adjusted by the cabin-back person as required.
---
In the last 2 photos, you can see some examples of spinnaker flying whereby the person handling the spinnaker is standing in the middle of the cockpit, which also works just fine, but visibility is reduced somewhat re the full spinnaker expanse.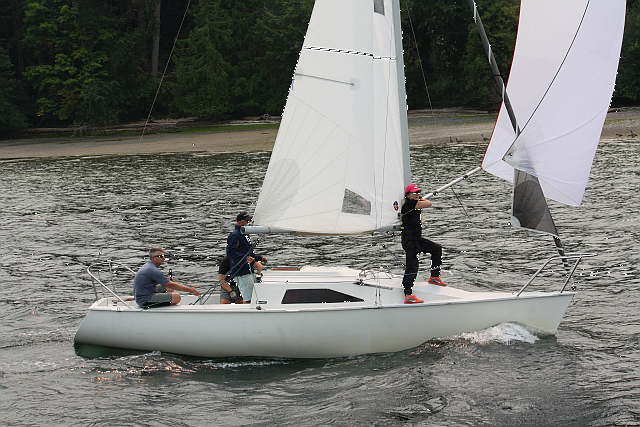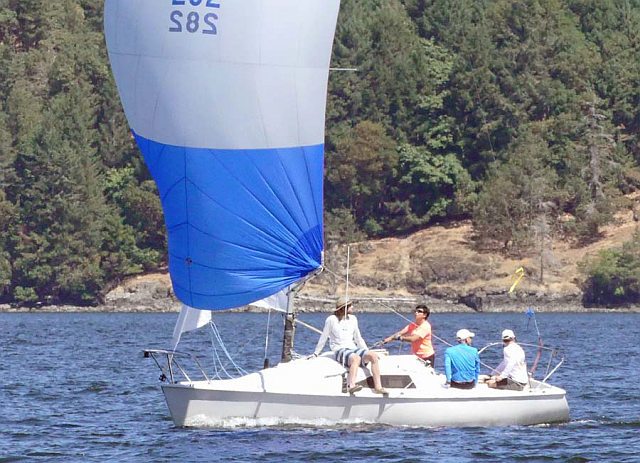 WELCOME NEW BOAT OWNER BENJAMIN PLISKA
---
Congratulations to Benjamin Pliska, a new RVYC member, who purchased Dingo (2092) from Len DeWit on September 10.
It will move to RVYC from Kits Yacht Club. Enjoy your first 242, Benjamin!