Welcome to the Regional Fleet - Mike & Rosemary Cannon
SOLD - 7th boat of 2023 to change hands - Victoria, BC on July 7th (non-listed transaction): Crown Royale (hull #281) - sold by Phil & Val Leitch to Mike & Rosemary Cannon of Victoria. 7th transaction of the year and the 66th in 6.5 years. The boat came with good sails, a yard dolly, a small outboard engine, and a 2016 Measurement Certificate.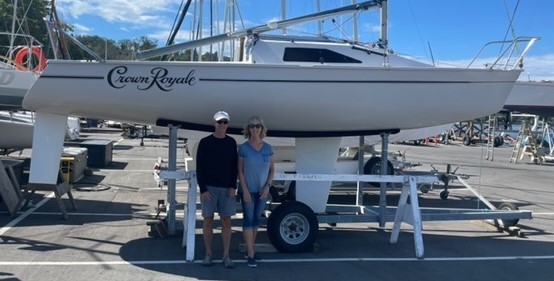 Mike has been sailing various boats for over 50 years, starting out racing Sabots on Salt Spring Island.  He graduated to Lasers back in the 80's then moved on to Fireballs which was where Rosemary got her introduction to sailing.  He and Rosemary then raced a Taser for many years.  Now after 20 years of summer cruising on their Beneteau 35s5, with racing limited to a bit of crewing for others on the side, they are both excited to be joining the M242 fleet in Victoria.
And they know what they're doing, finishing 3rd in the Canadian Championships at Cow Bay in early August - well done!
And don't worry - Phil & Val & family will be back in 242's once Phil gets a modest bionic man makeover done in the near future.
Enjoy your first 242, Mike & Rosemary!
---
Welcome to the Regional Fleet: Mike Karda
SOLD - 6th boat of 2023 to change hands - Toronto, Ontario (Listed May 25, 2023, for CDN$7,000): Fast Lane (ex-Fast Lane Fever), Hull #67. Mike Karda of Gibsons, BC, bought the boat and he trailered it back to BC on June 21st or so. His Team includes David Guy, Richard Poole, and Mike Cronk.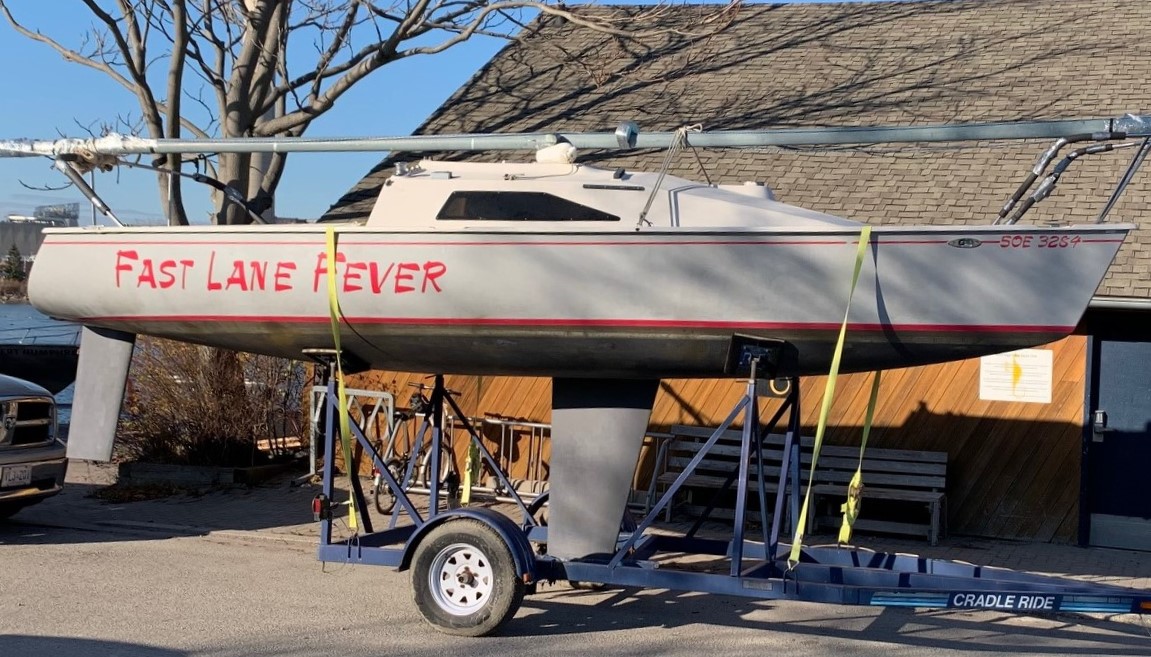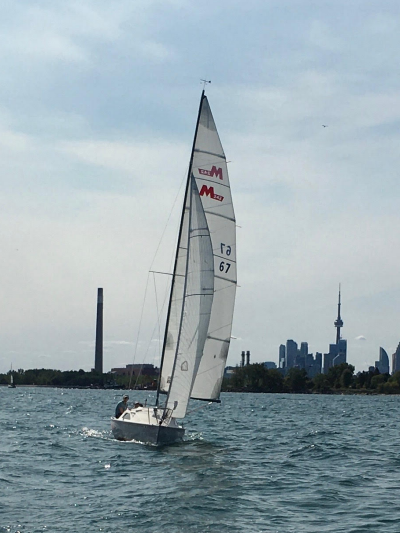 The boat came with:
All rigging including Mast, spreaders, boom, and spinnaker pole
5 Sails – all in Good Shape (2011 UK Mainsail, 2011 UK Genoa, 2005 Quantum Genoa, 2005 Quantum Spinnaker, 2002 Quantum Spinnaker, Spinnaker Launching Bag)
New North Sails Mainsail Cover and Genoa Sock 2021
New Dyneema Backstay 2022
All New Harken Blocks 2022
All New Running Rigging 2022
Brand New 2022 Tohatsu 3.5 hp LongShaft Outboard Motor, with Internal Tank (less than 3 hours usage on the motor)
All New Cabin Cushions in 2018
1996 Custom Cradle Ride Trailer, with tie down straps, 4 pads and portable lights, serviced November 2020
New 12V Marine Battery 2021
Magnetic Compass on Bulkhead
Raymarine ST60 Digital Display, Speed and Log
Single Point Lifting Strap and Ring for Lifting, Excellent Condition
Danforth Anchor, Chain, and Rode
2 Paddles
All New Safety Gear, Portable Running Lights, and Flares in 2021 – never used
2016 & 2023 Marine Surveys (available)
All Records, Bills, and M242 Tuning Guides etc
The boat has been stored in a heated warehouse for the past 3 winters. It needs a 2016 Measurement Certificate to be filled out. 
Mike started sailing/racing white sails in 1993 with a Tanzer 25 at Port Credit Yacht Club on Lake Ontario. He then got married to Margo at PCYC in 1995 and moved to Port Stanley on Lake Erie and purchased a TRAC 16 catamaran. Then he moved on to an Electra Sport 20 from the design team of sailmakers Hubert Raudaschl of St. Wolfgang, Austria and Heider Funck of Toronto. He joined a growing fleet of Solings out of Port Stanley and sailed against Olympian Bill Abbott Jr. of Sarnia in the North American Soling Championship; someone had to come last. He then purchased their future retirement home in Gibsons in 2015 and purchased a Yamaha 25 sloop in Gibsons Marina.  Traded up to a Catalina 38, Sparkman & Stephens design, and campaigned her with a team of like-minded sailors (with its huge kite ) out of Gibsons. Got another Soling half-share with David Guy for racing for one season, then started our search for another performance boat and it kept coming back to the Martin 242. Purchased Fast Lane M242 hull #67 and trailered it from Pickering Ontario to BC over a four day road trip with a friend who wanted to drive across Canada.  I told him I didn't recommend it.  They made it and with the help of Michael Clements, Anthony Collett, Ken Holland of the M242 sailing community and our sailing consortium of David, Richard, Cronky and I, we will be ready to campaign the boat soon after some upgrades are done.
David started sailing and racing with his father at age 14 in GP 14s at Stormont Yacht Club (near Cornwall, Ontario) in 1976.  Progressed through CYA dinghy sailing levels White through to Silver and all dinghy instructor levels including Black Evaluator.  Taught sailing every summer until age 24 culminating in running the annual Sea Cadet Sailing program at Royal Military College.  He has owned and raced a Laser, Beneteau 32s5, Beneteau 40.7, Impulse 21 and Soling.  More recently has been racing with Mike Karda, Richard Poole, and Mike Cronk on the Catalina 38, Mandala at SCYC.  Also, finished 3rd overall in the 2023 Around Bowen Race crewing for Ignacio Vuillez on his Tanzer 26, Aura.   He is looking forward to the Mandala team moving to the M242 racing Fast Lane and the beginnings of a M242 fleet in Gibsons!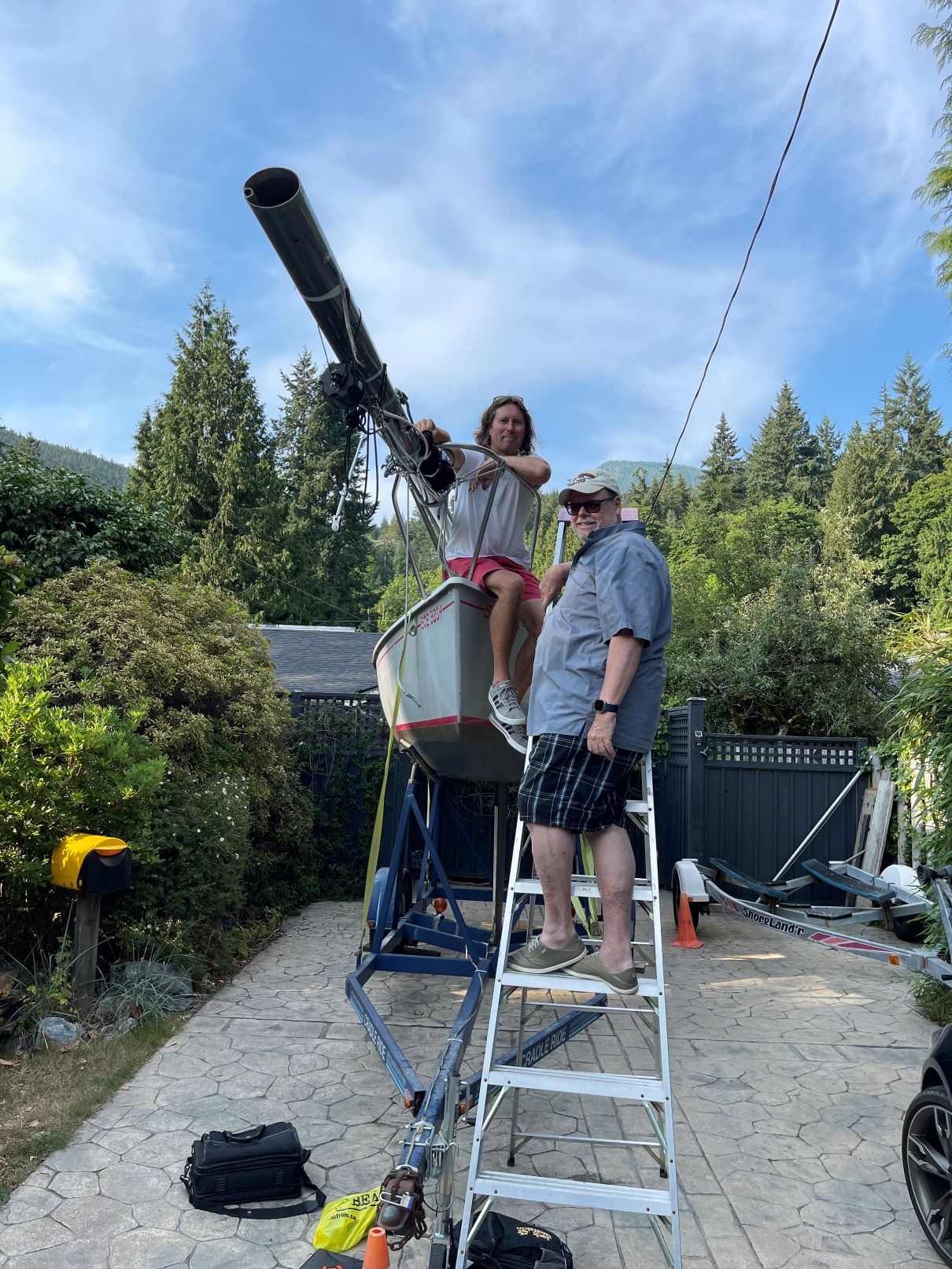 Mike on the left, David on the right
---
Welcome to the Regional Fleet: Grant Atkins
SOLD - 5th boat of 2023 to change hands (Winnipeg, Manitoba, listed March 6, 2023): 1983 Martin 242 "Trigger", hull number 83 (Serial #100830683) listed for CDN$10,000, and sold on May 10 by Doug White to Grant Atkins of Royal Vancouver Yacht Club, who used to race 242's a lot with Todd Pearce.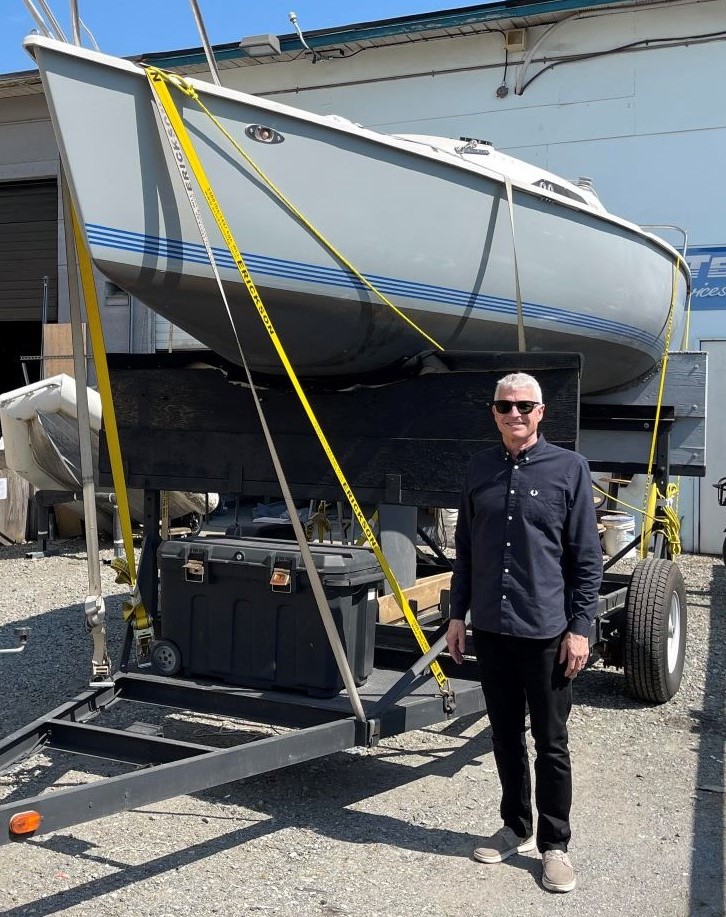 The boat had a single owner the whole time, and has only been sailed in freshwater on Lake of the Woods, Ontario, with extensive periods out of the water. The boat is in very good condition and comes with:
Full set of 2009 Ullman's sails that were used four times in 2009 and never since. There is also an older main, jib and spinnaker.
Brand new standing and running rigging and various fittings in 2008. The cost of the sails and rigging etc. was about CDN$10,000 at the time from MG Marine.
The hull does not have epoxy barrier coating on it but does have freshwater bottom paint. There are no visible blisters.
There was a heavy duty road trailer with a 7000 pound axle that was available separately and was hardly used. The trailer has removable bunks, electric brakes, safety run away brake system, and a 2 5/16 ball.
The boat also needs a 2016 Measurement Certificate, which is in the process of being filled out. The keel and rudder have been fully-measured and are almost perfectly in-spec.
Enjoy your 242, Grant!
---