The 2023 Racing Season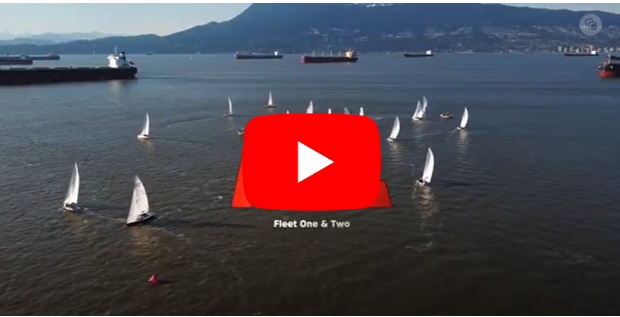 ---
2023 North Americans- Marina Del Rey
Report from Sue Service:

The M242 fleet had champagne conditions for their 2023 North American Championship, held at Cal YC July 7-9.
Team TC, led by Alan Field sailing Trolleycar
, was the big winner. Not only did they win first place in the regatta but they also won the Fleet 3 sponsored Nautical Trivia Night, taking home the grand prize of a new jib, donated by MG Marine and Ullman Sails. Second place went to Del Rey YC's
Lee Lewis, sailing Sandbox
, and third place was the all-women team from Cal YC on
All In, led by Denise George
. A special shout-out to Ken Machtley who made the trek down from Orcas Island YC in WA to join the fun.


Report from Ken Machtley:
Team Treachery with Ken Machtley, Chris White, Jeff Rodenberger, and Carolyn Costa headed to Marina Del Ray this past weekend as the sole representatives to attend from the PNW. Local CA team Off the Wagon, whose A-team crew were on Transpac, generously loaned us their well-prepared steed, making attendance an easy flight down.  
Cal Yacht Club was our host to a spectacular 3-day regatta with 15 boats attending. Weather was mostly sunshine with 8-12 knots of breeze and variable swell and wind chop. A total of 8 races were scheduled and run; 3 each on Fri/Sat and 2 on Sunday.  
Sailing in CA is significantly different than the flat water and currents common in PNW regattas. Our team climbed a steep learning curve searching for power and point upwind and working to dial in downwind surfing and tactics. We ended up 10th with our top finish being a 6th in the last race. The top nine teams had at least one 4th or better finish and the top 5 teams were separated by only 7 points when all was said and done.  
Some of our takeaways from the weekend: 
Rig tension and jib car position were essential for power. We wound up at 35/35 (US Loos) with jib cars way more forward than we usually run on the final day and we were very happy. 
Upwind, speed above 5.8 was essential to get the boat foiling to weather. Pinching was death. 
As always, clear air ruled. Almost all boats were in the front row at the start. The outside edges often were better than the middle. The wind commonly shifts right later in the day, especially when inland temps are high and the marine layer burns off earlier. 
While we found some success at slightly higher angles downwind, most of the top teams were DDW and/or square to waves. Crew positioning to minimize roll and keep sails drawing was important. Half kept crew forward of the mast, most others kept the bow person at the shrouds. 
#MartinsWinTheParty is alive and well at Cal Yacht Club! Trivia night with BBQ on Friday, a keg on the dock each day after racing, and super friendly sailors all made us feel welcome and super glad we attended. 
We're already looking forward to returning and putting our new skillz to work. Midwinters next year anyone?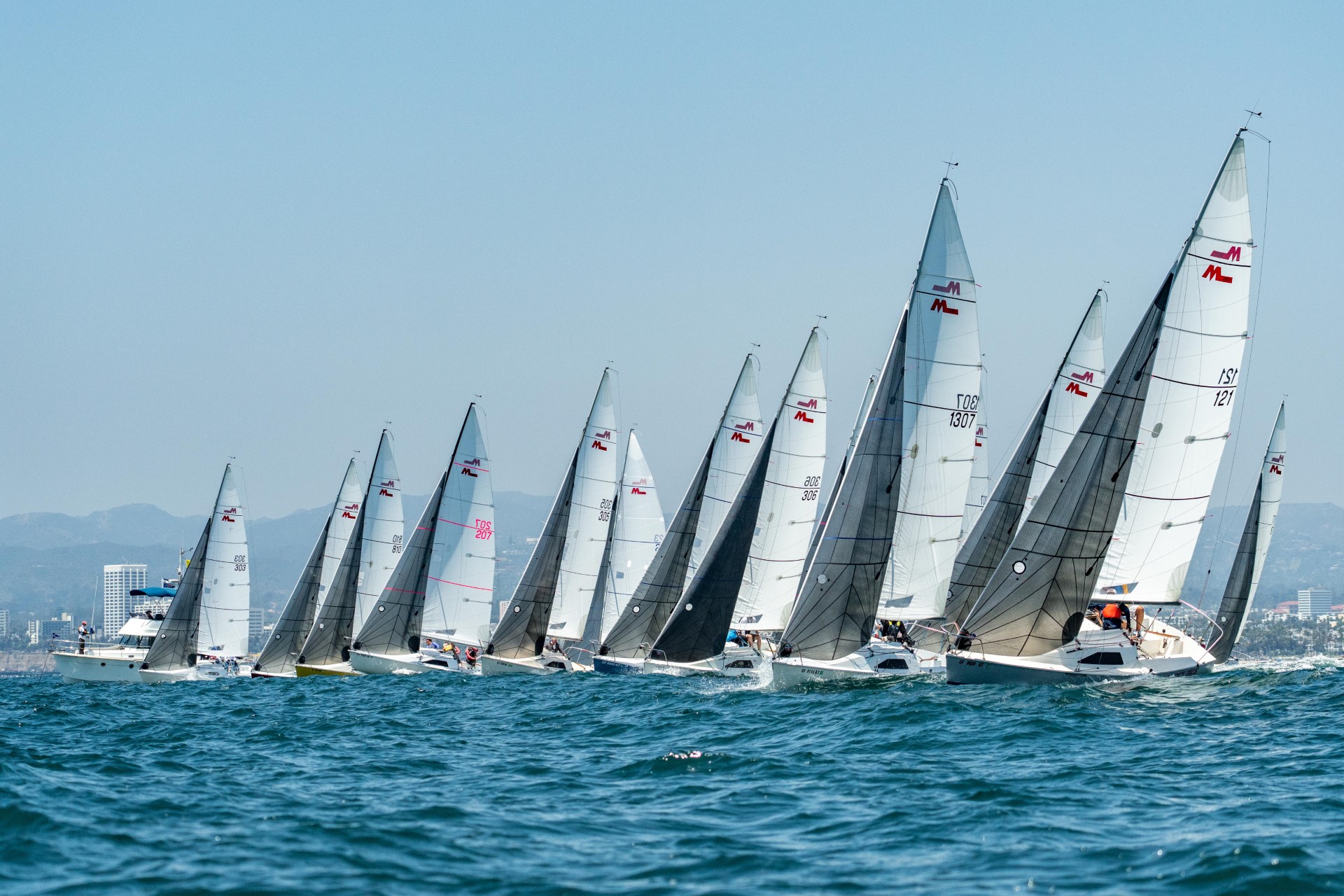 Busy Start Line!

-credit Simone Staff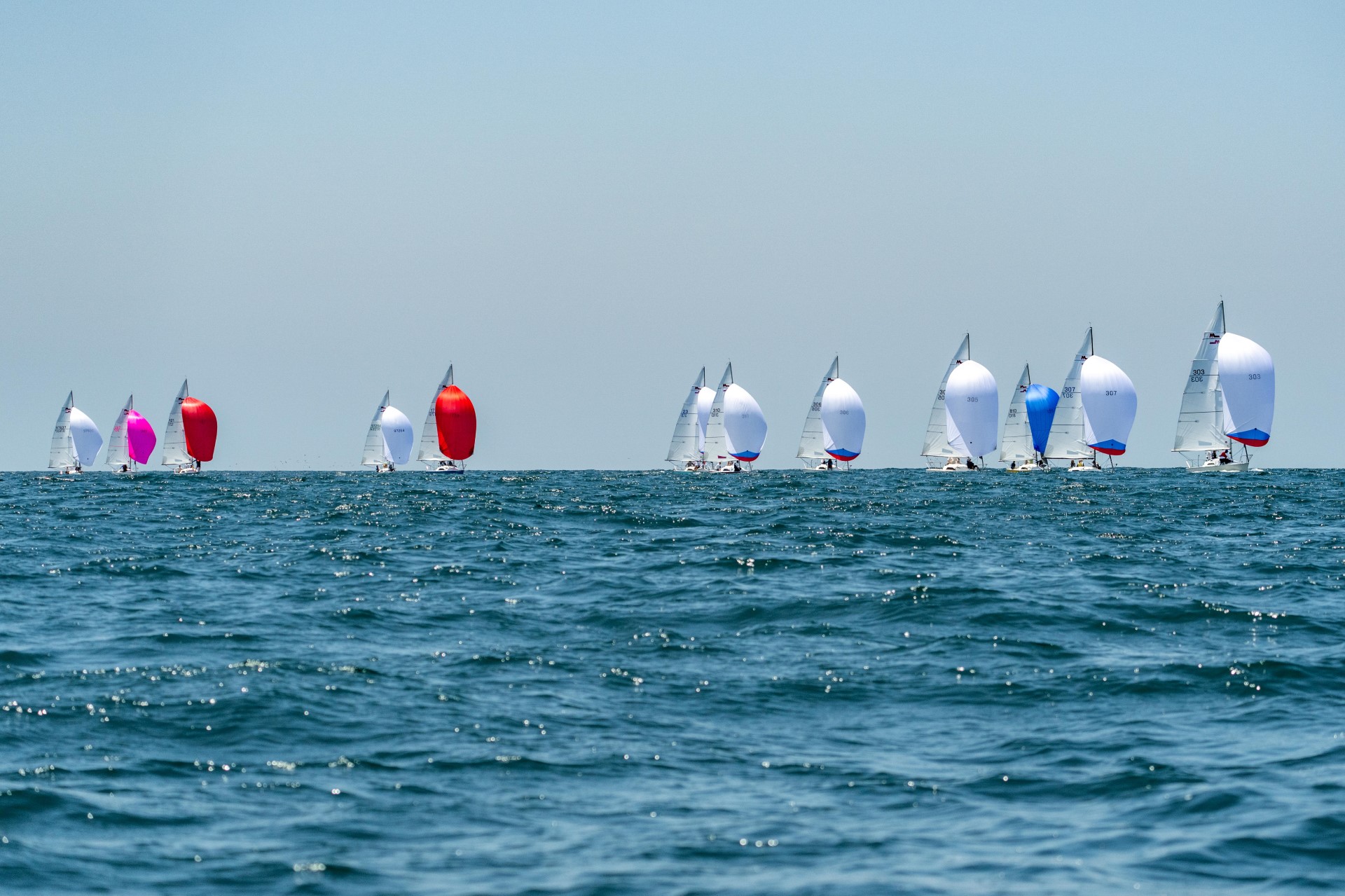 Downwind Battle

-credit Simone Staff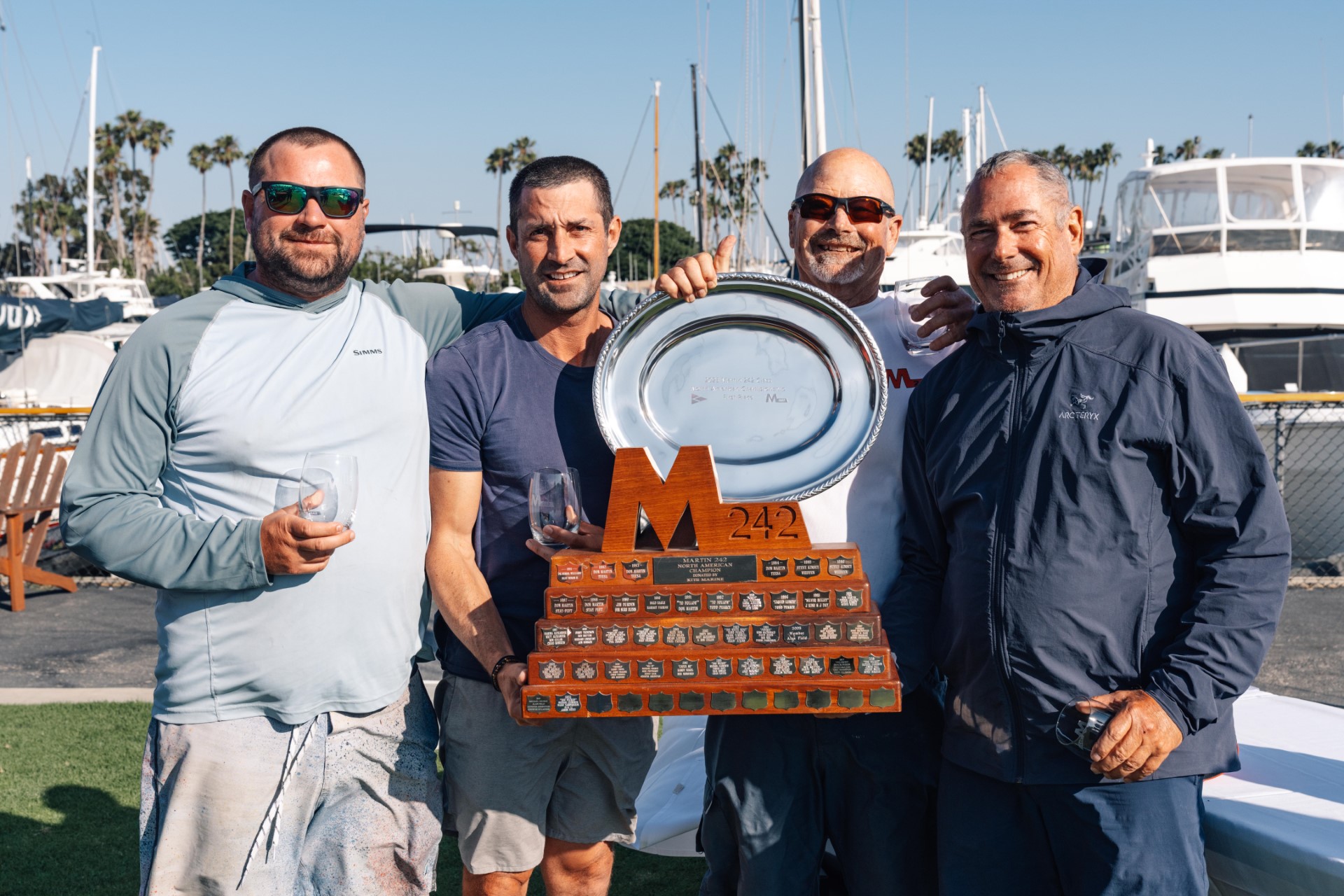 Hardware! Left to right: Matt Wenner, Ryan Costello, Bill Petersen, Alan Field on Team TC

-credit Simone Staff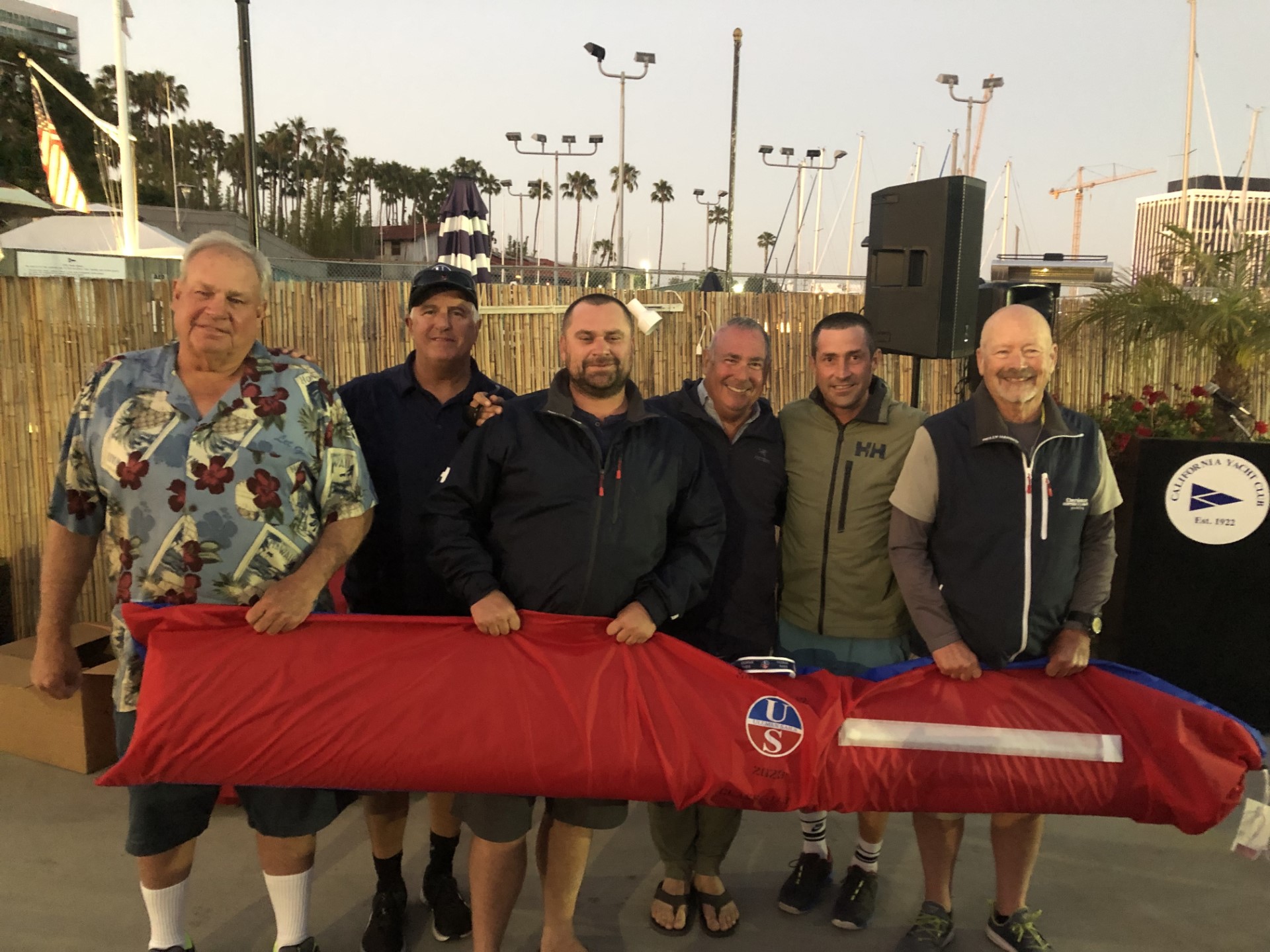 Fleet 3 sponsored Nautical Trivia Night - Grand Prize. Left to Right: Mike George (MG Marine), Bruce Cooper (Ullman Sails), Matt Wenner, Alan Field, Ryan Costello, Bill Petersen


-credit Sue Service
Full results are
here
 More pictures
here
 thanks to Simone Staff.
---
Round Bowen Race 2023
by Tim Murphy, with crew Connie Leung and Paul Watson
Dirty Dog #282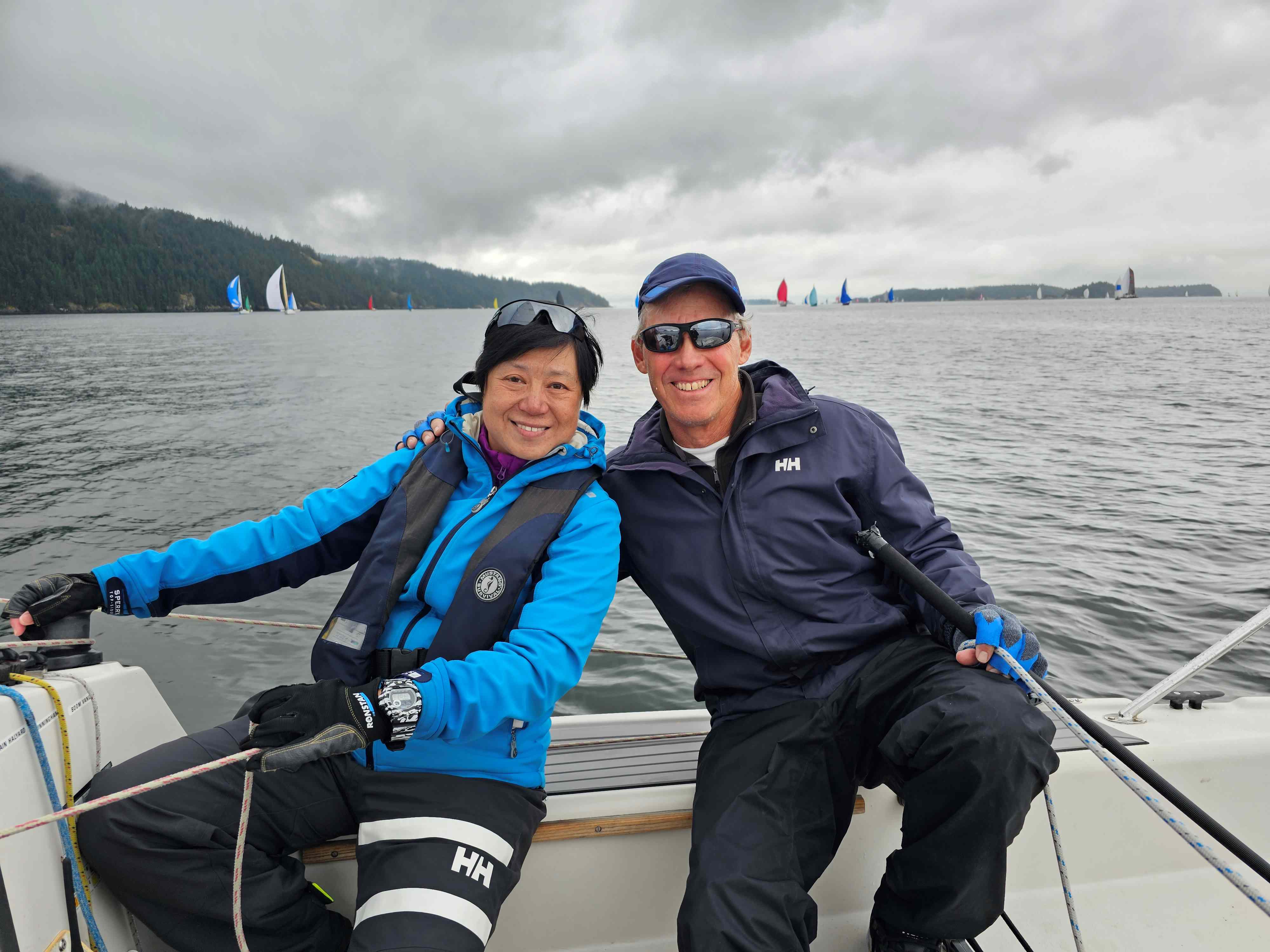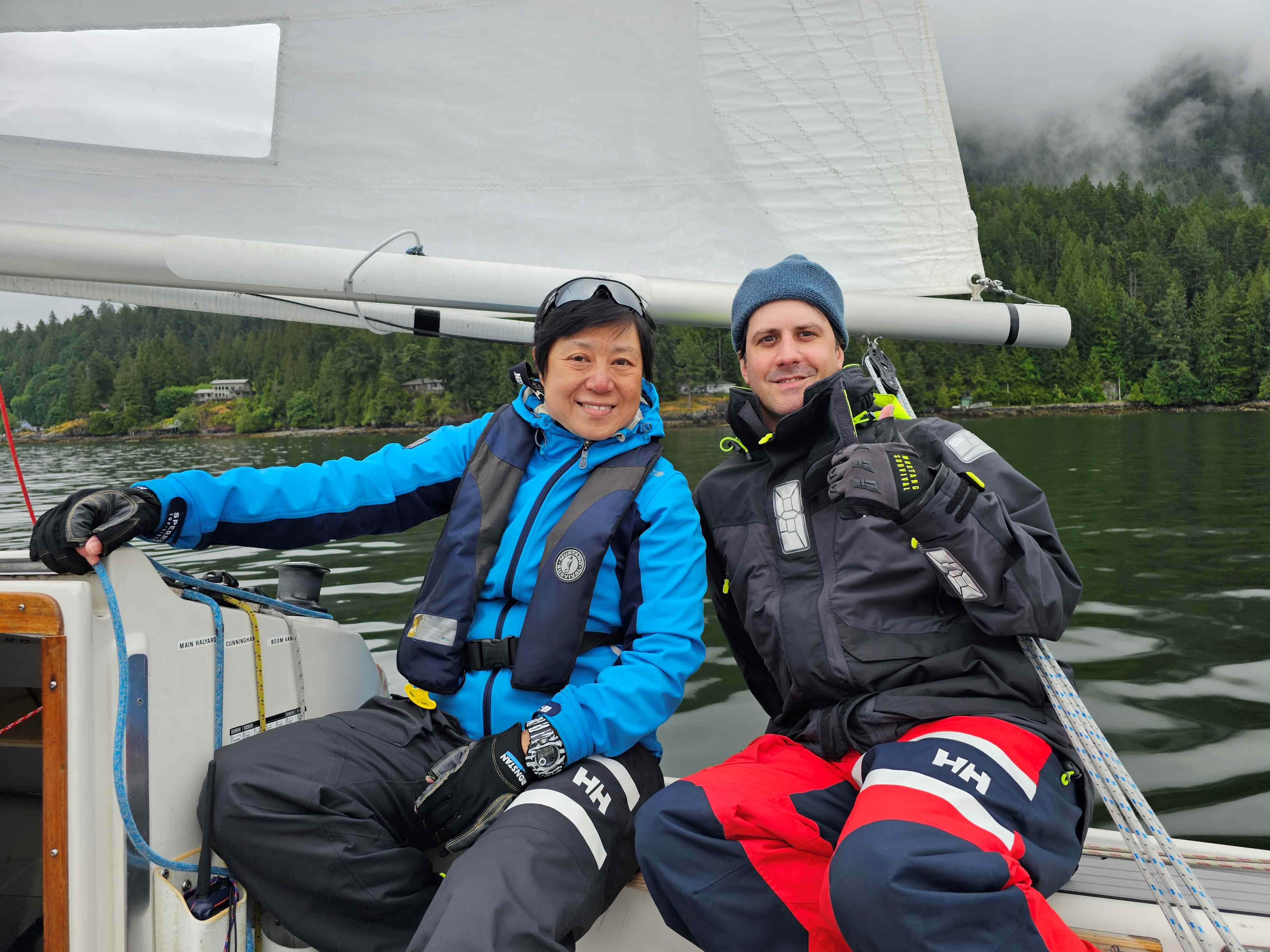 Connie and Tim; Connie and Paul
I felt quite lucky to have the opportunity to drive Dirty Dog with excellent crew Connie Leung spinnaker trim and Paul Watson foredeck and tactics for the Round Bowen race as owner Matt Collingwood was out of town. At the start things seemed relatively normal despite a steady drizzle and 12 C temperatures; most crews looked like they were ready for the southern ocean and not sunshine.