Racing Concept of the Month #3
The "racing concept of the month" articles are way of sharing the general racing knowledge that has been developed over the decades in the Martin 242 fleet – this is the second of a series. All are loosely based on the excellent content in this article by Michael Clements.
Rules on the Port Layline


As we covered in
this article
, the English Bay westerly breeze normally means it pays big to bang the left corner upwind. This has the unfortunate side effect that we often find ourselves approaching the weather mark on or near the port layline. If not handled properly, this can have disastrous consequences!
This article will be a quick review of the rules that apply when rounding a mark, with a specific focus on what you should be thinking about on the port layline.
---

THE LATEST UPDATE FROM BC SAILING IS HERE

and it isn't good for anyone wanting to race or sail with other than family or household as crew.
M
ore information about Wednesday Evening Sailing and weekend Regattas to follow.



*************************************************************



Welcome to the Regional Fleet - Robert Britten & Jose Grandizo
On March 24th the 5th boat of 2021 changed hands: Luke Acker of Victoria, BC, sold No Worries (hull #266), to Robert Britten and Jose Grandizo of the Royal Victoria Yacht Club via a private transaction for CDN$9,000. Robert and Jose are very experienced racers who most recently jointly-owned a Melges 24 and competed at the 2018 Worlds in Esquimalt finishing 10th overall and 1st in the Corinthian Division.
While the Martin 242 is a new class for Jose, Bob has crewed at several North American Championships with skippers such as Jack Miller, Gerry Thompson, Jim Allen and Alex Fox: he has always really enjoyed the Fleet and the boat.
With a white hull, No Worries came with a yard trailer, newer outboard, two mains, and a new jib and jib sock. The boat hull/keel/rudder measured in perfectly and it came with a current, mostly-completed 2016 Measurement Certificate.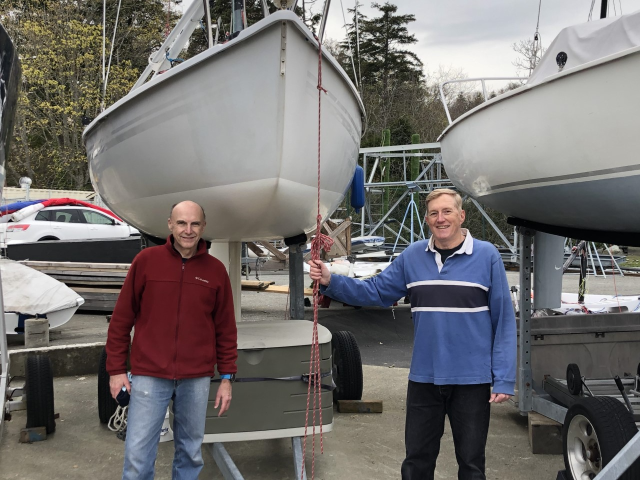 Welcome to the Regional Fleet, Robert and Jose, and enjoy your first 242!
---