Hits: 267
RVYC One Design - October 2020
Royal Vancouver Yacht Club
Corrected Final Results - 2020-10-14
M242 Class
| Rank | Class | Boat Name | SailNo | Club | HelmName | CrewName | R1 | R2 | R3 | Total | Nett |
| --- | --- | --- | --- | --- | --- | --- | --- | --- | --- | --- | --- |
| 1 | M242 | Back in Black | 13 | KYC | Reto Corfu |   | 1.0 | 1.0 | 1.0 | 3.0 | 3.0 |
| 2 | M242 | Too Wicked | 304 | RVYC | Michael Clements |   | 2.0 | 2.0 | 2.0 | 6.0 | 6.0 |
| 3 | M242 | Figarwe | 233 | KYC | Alex Levkovskiy |   | 3.0 | 3.0 | 3.0 | 9.0 | 9.0 |
| 4 | M242 | Sailiant | 171 | KYC | Anthony Collett |   | 4.0 | 4.0 | 4.0 | 12.0 | 12.0 |
| 5 | M242 | Blowout | 27 | TCYC | Frank Rogers |   | 5.0 | 5.0 | 5.0 | 15.0 | 15.0 |
| 6 | M242 | Bella Rena | 127 | KYC | Tim Singh |   | 7.0 | 6.0 | 8.0 DNC | 21.0 | 21.0 |
| 7 | M242 | Jumanji | 263 | KYC | Brenda van Fossen |   | 6.0 | 8.0 DNC | 8.0 DNC | 22.0 | 22.0 |
Sailwave Scoring Software 2.28.1
www.sailwave.com


Hits: 321
Welcome to the Regional Fleet - Julien Traverse - 10th boat of 2020 to change hands!
On September 15, the 10th boat of 2020 changed hands (9th in the Pacific Northwest Region): Bruce Maxwell sold Hull #195(?), sail number 46522 (was the ex-Water Girl from Kits YC, listed October 29, 2019) to Julien Traverse of Port Moody, BC. Julien has raced a little and cruised a lot. He's logged some good hours on Martins in the past but looks forward to getting to know the Fleet better in the coming seasons.
Several Fleet members assisted him with parts and suggestions so he could get the boat activated. With a grey, newly-painted hull, and after having just gone through an extensive restoration, it was in great condition and was listed at CDN$7500. It came with a full set of practice sails, but no trailer, motor, or Measurement Certificate. Welcome to the Fleet, Julien, and enjoy your first 242!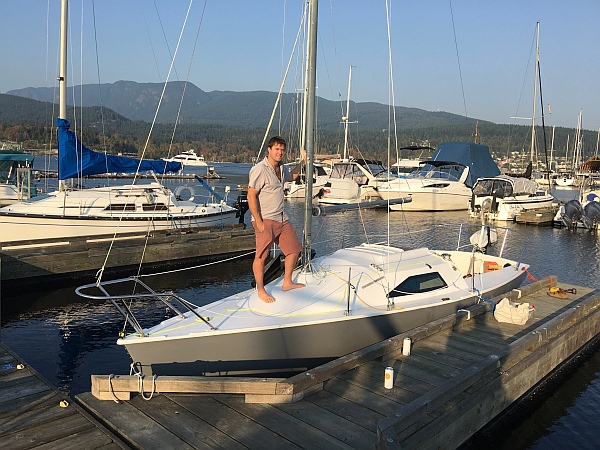 ****************
Hits: 288
The sea was angry that day, my friends!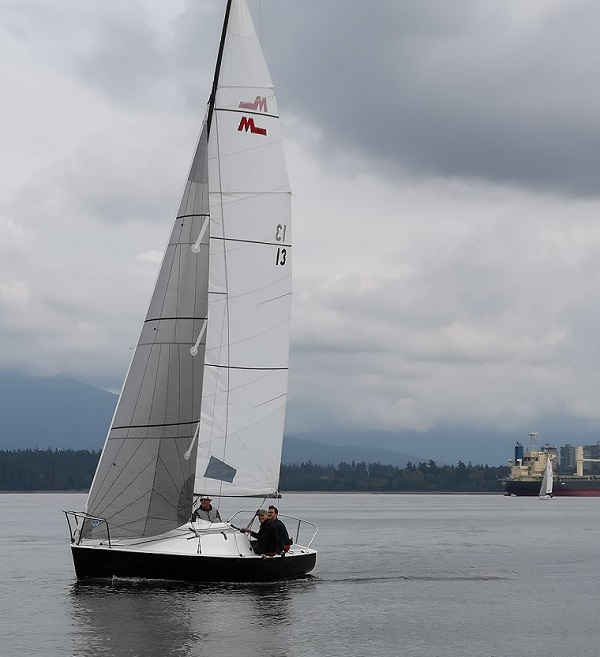 That's how all great race reports should start...unfortunately this one won't. The light easterly before the start of this year's KYC Lawrance Cup race to the Bell Buoy gave way to a near flat calm at the start. With a huge clump of boats out near the pin end of the start line, Phil Cragg, Ed Thomas and I on Back in Black elected to take a risky start right at the KYC dock. We had clear air, but it initially looked frightening as there seemed to be very little easterly breeze along the shore, and the forest of kites looked like they would soon envelop us. Luckily, as the easterly breeze completely evaporated moments after the start and kites gave way to jibs, we managed to latch into a very light zephyr and get moving away from the pack. That was really the defining moment for us, as zephyr gave way to light south westerly, then light northerly, then finally building westerly. As we always seemed to be first to the new breeze, our lead gradually grew. There was a brief moment of panic as our keel hit the sand at Spanish banks, almost a rite of passage for this race. We managed to spin off by quickly tacking and aggressively heeling the boat.
Frank Rogers and his crew on #27 Blow Out were also moving quickly in the light breeze, and never far behind us up to the first dolphin, but we watched in dismay as they were even more bold than us going inshore, inevitably also getting stuck on the bank. It took them a full few minutes to get clear - enough to hold on to second but the hungry pack behind had closed well up.
Downwind after the rounding we played it safe - "stay between them and the finish" was our mantra, but Mike and crew on #304 Too Wicked put on a masterful display (as always it seems) to pass numerous boats on the way to their second place finish. Some of Mike's insights on the downwind leg below - we kept trying to divine what was going on with tide and current but never really figured it out...ebb current everywhere you look on a huge rising tide made little to no sense to me. Tide from the heavens perhaps. We also thought there was a bit more pressure inshore after passing Spanish banks, and definitely were conscious of sailing hotter angles in the lulls to keep the boat moving in the never-ending string of lumpy waves from powerboat wakes. Upwind at the start of the race we definitely got a bit lucky, but we also worked really hard to keep the boat moving. The sails were never trimmed tight, and Ed had 100% laser focus and constant adjustment on jib trim as it's impossible to turn the boat fast enough to keep up to the wind shifts in that kind of breeze.
All in all another great day on the water, no rain, great refresher on how to rig spinnakers again, and great turnout by the Martin 242 fleet!
Look for final results soon on the KYC website I'm told...

Reto Corfu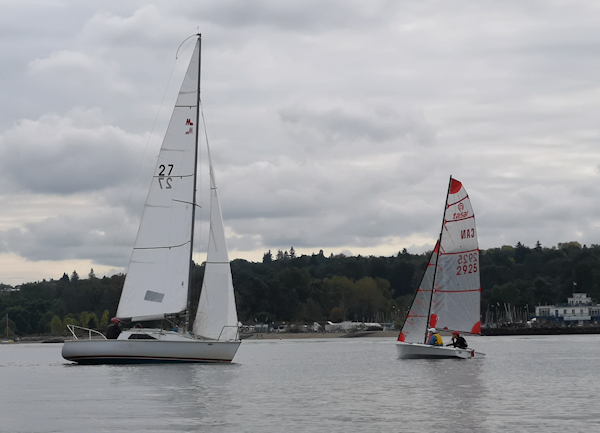 ***
Debrief notes from Mike:
Yesterday it was imperative to not try to sail too low because the chute would collapse. So we sailed "a bit hotter", thus a closer angle to the wind so we kept up our velocity.
And some boats made the mistake of rounding the mark and heading due east, head-on into the outflow current, but we did a no-pole-hoist at the windward mark and headed north into better breeze and perhaps fractionally less outflow current. That gave us 2-3 boats right there and we picked off 3 more on the rest of the run.
And when we gybed the first time onto starboard at a freighter way off to the north of the bell buoy, we drove inshore all the way to the tide line just south of the first mile marker, then went northeast on port for a while. Matt Collingwood went past us on starboard to the south and crossed into the bad current. He visibly slowed down.
So after we went offshore on port for about 500 yards, we gybed back onto starboard and drove all the way inshore to a point about 250 yards west of the Jericho Sailing Center pier, which is where the wind is: usually strongest; has bent the most due to the geographic wind shift; and the current is the least.
We gained many boat lengths on #27 who was 10 lengths to our North during that inshore approach.
When we gybed onto port we crossed him, and that was basically that for the rest of the run.
Michael Clements

Results from KYC: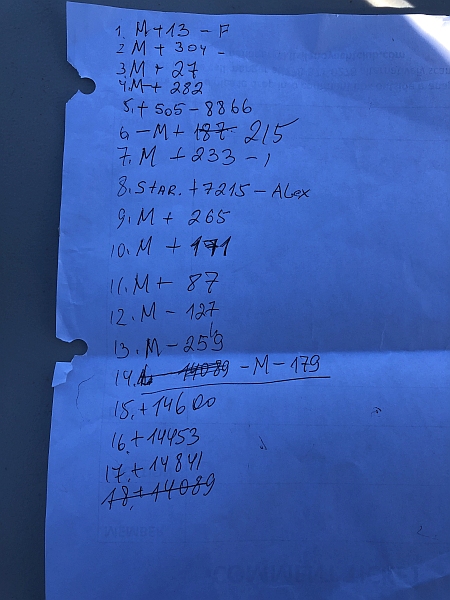 Official results from Kits Yacht Club :)